Sydney Opera House Tour (Times, Prices, Options) 2022
Last updated on February 6, 2023 2:06 pm
Add to wishlist
Added to wishlist
Removed from wishlist
0
Add to compare
The Sydney Opera House is one of the most sought after Australian attractions you'll find. Whether you're viewing it from the river or walking its corridors, nothing can prepare you for a visit to one of the world's most iconic buildings.
Its stages have seen the likes of Pavarotti, John Cleese, and Arnold Schwarzenegger in their primes. Like the variety of performers it boasts, the theater also boasts a multitude of ways for you to tour it.
Below, you can find some of our best choices for you to make use of. Tours designed to get the most out of your visit. With over 1000 rooms and 300 corridors, one can only imagine the stories they'll hear and legacies they'll learn about this place.
Since its completion in 1973, the Sydney Opera House has captured the hearts of all who have been fortunate enough to enter its doors. In that time its gathered a history worth exploring.
Highlights:
Walk the roof of the Opera House
Explore its 7 main venues
Get skip-the-line or VIP access to usually off-limit areas
Know before you book:
Book in advance to avoid missing out
Morning slots are generally less full than afternoon and evening
Tours come in English, French, German, Mandarin, Japanese, and Korean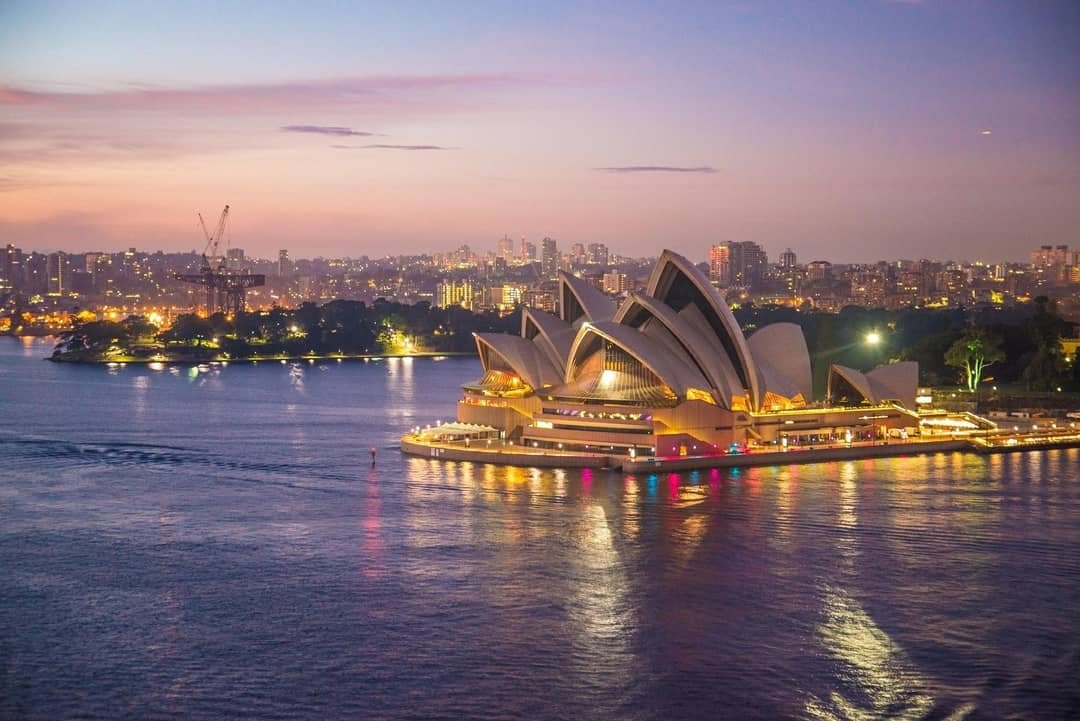 Welcome to one of the most recognizable and distinctive buildings in the world. An argument could be made that it's the most iconic building in the world! As its "sails" stand prominent over the harbor, you could see why.
Sydney Opera House boasts over 1600 performances throughout the year, spread across its 6 main venue halls. Walking its interior, you'll get to see its 1000 rooms, 300 corridors as well as walk its iconic tiled roof.
Did you know there are over 1 million tiles covering the entire structure? When Danish architect Jorn Utzon decided to pursue his dream of designing and building a world-class performing arts building, he didn't hold back.
As the tiles were laid, and its first concrete "ribs" erected, who'd have thought Bennelong Point and Sydney, on the whole, would be changed forever.
Sydney Opera House Tour Price 2021
Sydney Opera House tickets price out at $42 USD. However, you can receive discounts depending on group size, booking online and which tour options you choose.
Guided tours are generally around $15-$20 USD more expensive, as seen below.
Times
The Sydney Opera House opening hours go from 9 am to 8:30 pm, Monday to Saturday, and from 9 am to 5 pm on a Sunday.
On a side note, you should know the surrounding Bennelong Point is open to the population throughout the day. It's also the perfect spot for watching a sunrise or sunset.
Monday – Saturday: 9am – 8:30pm
Sunday: 9am – 5pm
Best Time to Go
With the Opera House being open 7 days a week, you get versatility when deciding when to go. Morning or late evenings are usually the more preferable options. Try to catch the tours before 11 am or after 4 pm.
October, November, March, and April are some of Sydney's prime sightseeing months!
Sydney Opera House Inside Tours
You may be wondering what's in store when you visit Bennelong Point. Majority of the guided tours are somewhat customizable. You'll get to choose just how in-depth you want to go.
With so many stages and rooms inside the complex, it would be wise to do some research into which Sydney Opera House rooms pique your interest.
Be warned, some stages may be closed due to preparations for a show or renovations, so make sure you're prepared and structure your tour accordingly.
Sydney Opera House Tour Options
The Opera House has a lot of variety when it comes to touring its many rooms. There's a lot of ground to cover, and limited time to do it, so it pays to have some good tour options.
Below you can find some of our best picks for you to make use of.
Walking Tour
On this Sydney Opera House walking tour, you'll discover not only what went into the designing and building of its 300 corridors and 1000 rooms. You'll also get to walk on the roof of the building, touch the tiles and get a stunning view of Sydney Harbour.
The Opera House is filled with tales and folklore and goes beyond its construction. You're in for a detailed and entertaining tour.
What we liked: Perfect for those looking to get the standard look-see into the buildings past.
---
INCLUDES:
Professional Tour Guide
English, German, Spanish, and French options
Roof Walk
EXCLUDES:
Transport to and from the venue
VIP access to off-limit areas
Meals and snacks
If your goal is to go on a detailed tour of the theater, perfect for the whole family, then this is the best option you could take. It's neither long enough to be boring nor overstuffed with information.
You can explore, learn and appreciate your surroundings without asking your kids to focus for too long.
Check Price & Book
---
Opera House Inside VIP Tour
This tour is for those travelers looking to go above and beyond a typical visit to the theater. You'll not only get to enjoy all the benefits of the standard tour, but you'll get access to rooms and locations within the building normally off-limits.
The tour is limited to a small group as well, which means you get a more personal experience. You'll see where the stars rehearse for their performance, stand on stage, and get to eat where they eat: the famous Green Room.
What we liked: Great for those looking to go above and beyond the regular experience.
---
INCLUDES:
Access to normally off-limit areas
Breakfast in the Green Room
Professional Tour Guide
EXCLUDES:
Transport to and from venue
Refunds
Afternoon tours
Check Price & Book
---
If you're an arty soul or have a desire to stand on the stage that so many famous stars have stood on before then you have to try this tour out.
Other than getting to explore the VIP sections of the theater, you'll also get added insight into some funny behind-the-scenes stories. One's a regular tour wouldn't be able to provide.
For first-timers to Sydney, a visit to the Sydney Opera House should be number one on your list of things to do. As mainstream sites go, the opera house is one that does not disappoint. It's neither overcrowded with tourists nor a let-down.
PROS
Lots of activities included
Meals can be included
Multiple Options
CONS
No transport to and from the venue
Wheelchair access is limited
Tour can feel short
Specification:
Sydney Opera House Tour (Times, Prices, Options) 2022
| | |
| --- | --- |
| Accessible | Not wheelchair accessible |
| Duration | 1 hr, 2.5 hours |
| Includes | Rooftop access, Audio guide in mutliple languages, Professional tour guide |
| Excludes | Refunds, Transport |
| Meals & Drinks | Meals not included (unless specified) |
| Pickup | Not included |
| Suitable For | Couples, Families, Families with older children, Solo travelers |
78 reviews for
Sydney Opera House Tour (Times, Prices, Options) 2022
Sydney Opera House Tour (Times, Prices, Options) 2022