Whitehaven Beach Snorkeling | Whitsunday Islands Snorkeling 2023
Last updated on June 2, 2023 2:19 am
Add to wishlist
Added to wishlist
Removed from wishlist
0
Add to compare
Whitehaven Beach is located in the heart of the Great Barrier Beach in Australia. It's considered to be the world's most unspoiled and beautiful beaches according to TripAdvisor Travellers' Choice Awards in 2021.
This beach is known for its clear teal waters as well as the marbled swirling effect the water and the sand make at low tide. You can get the best view of this from the lookout points on Whitsundays Island.
Because of its crystal clear water and prime location on the reef, it also makes for an excellent snorkeling adventure. You get to experience the breathtaking views of vividly colored corals and endless marine life.
Whitehaven Beach trips and snorkeling tours are enjoyed by friends, families, and couples alike. It makes for an unforgettable island adventure and you might get to learn a thing or two from your local guide.
Highlights When Snorkeling Whitehaven Beach
Exploring the colorful and full-of-life Great Barrier Reef.
Amazing tropical foods.
Informative tour guides and marine biologists teaching you about the islands.
Picture-perfect scenes from the Hill Inlet Lookout point.
Basking under the Australian sun on Whitehaven Beach.
Know before you book:
Snorkeling and guided walks require participants to have a moderate fitness level.
These tours are not suitable for pregnant ladies, those with injuries, or children under 5 years.
The Australian sun can get very hot. Make sure to bring sunblock and some extra water for the trip.
Located in the Whitsunday region amongst the 74 islands is Whitehaven Beach. It is famous for its pristine and clean beauty, swirly sand views, prime location on the Great Barrier Reef, and fantastic snorkeling opportunities. You can catch a high-speed boat from Airlie Beach or sail overnight, sleeping under the stars on a Tongarra.
Once you're in the Whitsunday area, there is an overwhelming amount of things to do, from soaring the skies in an aircraft to seeing picturesque views and exploring underwater caves and colorful coral. Not to mention taking a walk up the Hill Inlet Lookout point. Here you'll see the iconic low-tide views of the sand and teal ocean mixing to give you breathtaking views of the marbled Whitehaven Beach.
While you're in Australia, it's worth seeing more of what the country can offer. Like taking a Sydney Habour Tour or petting Koalas at the Lone Pine Koala Sanctuary.
Planning all of these activities and trying to fit them in can be challenging. Luckily we have sorted through the best Whitehaven tours so you can sit back and enjoy your vacation instead of stressing about the planning. Psst, our favorite is the scenic flight & snorkeling experience.
Whitsundays Snorkeling Tour: Prices 2021
Depending on what type of adventure you decide on, tour prices will differ. The prices start at around 160AUD (125USD) for basic packages, including a trip to Whitehaven Beach plus snorkeling in Whitsunday. On the other end, Whitsunday snorkeling day trips can go up to 390AUD (300USD) for a more immersive experience. Including an overnight adventure or a scenic plane ride over the islands.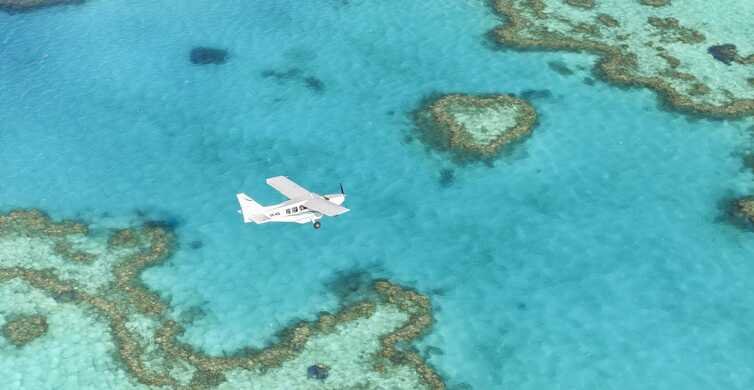 Whitehaven Beach Tour Times
Since you need to travel from Airlie Beach to Whitehaven Beach, most tours leave early in the morning, around 8 am.
There's so much to do, so the tours are all full-day and last between 7 and 10 hours (with the exception of the 2-day experience). You can expect to be back at Airlie beach or your accommodation (if the tour offers a shuttle service) at around 5 pm.
Whitsundays Snorkeling Tours: Best Time to Go
Many people say that the summer months (December, January and February) are the best to enjoy the ocean at Whitehaven and Whitsunday Islands. The subtropical weather is hot, making swimming, water sports and sunbathing utterly enjoyable. These months also bring gentle winds for sailing, but you will run into crowds along the beaches and popular tourist destinations since this is peak season.
Alternatively, the end of spring (September to November) is the best time to visit, according to the locals. The weather is perfectly sunny but has far less humidity, making the subtropical temperatures very comfortable. There is also excellent visibility for snorkeling and diving, as well as perfect sailing conditions.
Whitsunday Island Snorkeling Tour Options
Because there is so much to do and see in the Whitsunday region, all tours are full-day tours, and some are even 2 days long. Snorkeling is great for the whole family and very memorable for large groups to enjoy. Whether it's your first time or you've had some practice, the guides will make sure you're safe and always having fun.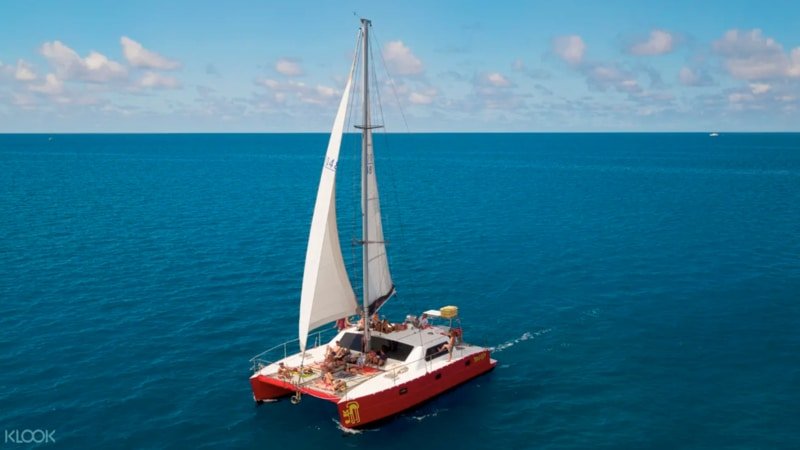 Whitsundays 2-Night Snorkel & Sailing Experience
This Whitehaven tour offers guests the opportunity of a lifetime. Set out from Airlie Beach on an adventure aboard a Tongarra. The tour begins with a sunset cruise to Whitsunday Island. While aboard, you will enjoy a fresh, home-cooked meal with your friends before falling asleep under the stars on the front deck.
On the second day, you'll wake up at the iconic Whitehaven Beach. Take a guided walk to the Hill Inlet Lookout point for breathtaking views before beginning your snorkeling adventure on the Great Barrier Reef.
What we liked: Sleeping under the stars.
INCLUDES:
Food and beverages
Snorkeling gear
Boat trip to Whitsunday Island
This 2-day tour is perfect for friends and families looking to make some memories while experiencing the undersea world of Australia. You can also make use of the customized banana boat for some extra fun!
Check Price & Book
Whitehaven: Ocean Rafting, Hill Inlet Lookout & Top Snorkel Spots
This island snorkeling experience sets off from Airlie Beach. Guests can choose between one of two Whitsunday snorkeling tours, either the 'Northern Exposure' for more snorkel time or the 'Southern Lights' for more beach bumming.
You'll be taken aboard a sizable shaded raft to Whitehaven Beach and nearby island snorkeling spots. You'll also have unlimited access to the beautiful beach and Hill Inlet Lookout.
At lunchtime, there is a buffet lunch followed by tea and cakes before heading home.
What we liked: Faster boat meant more snorkeling time.
INCLUDES:
Hotel bus transfers
Boat ride to Whitehaven Island
Snorkeling gear
Reef and island talks by marine biologist
EXCLUDES:
Food and beverages
Alcohol
Wetsuits (available for hire)
Prescription Mask (available for hire)
Whether you're a beginner or an experienced snorkeler, you'll have a memorable experience exploring the colorful reefs on display with friends or families. The rafting boat is rather large and can hold groups of up to 32 people. It also travels a lot faster than other boats, meaning you get to your destination quicker.
Check Price & Book

Snorkeling Tour from Airlie Beach: Whitsundays Eco-Cruise with Lunch
This Whitehaven tour will start at Airlie Beach, where you will board a custom-built catamaran. Next, you'll be given your first snack of the day, homemade, gluten-free brownies, before stopping at the first snorkeling destination. Here, you'll be immersed in the vivid colors and schools of fish on the fringes of the Great Barrier Reef.
Then stop at Hook Island to explore the underwater valleys, caves and variety of marine life. This is followed by a buffet lunch at Whitehaven Beach, including frittatas, quiche, cold cuts, cheese, salad and freshly baked bread.
To finish off, you get to explore the beach and walk up to the Hill Inlet Lookout point to witness the famous swirly sand. You'll head back, enjoying some more refreshing snacks and be dropped at your accommodation by 5 pm.
What we liked: Exquisite meals and snacks.
INCLUDES:
Hotel bus transfers
Full-day cruise
Food and beverages
Snorkeling equipment
Use of drybag
EXCLUDES:
Wetsuits (available for hire)
Alcohol
This unique eco-tour strives to preserve the environment so that many more generations can experience its beautiful sights. This tour is great for groups of friends or families but isn't suitable for wheelchairs or children under 5 years of age.
Check Price & Book
Whitehaven Beach Tour with Snorkel at Whitsundays Island
Start your day by jumping on a boat and heading down to tour Whitehaven Beach. Like other tours, this allows you to explore the beach, soak up the tropical sun and head off on a guided bush walk to the South Whitehaven Lookout point.
Next, you'll head to Palm Bay Resort (exclusive to only ZigZag tours) for a cocktail and dip in the pool. This is followed by snorkeling adventures at different locations around the Whitsunday Islands. Set your eyes on the busy waterworld and maybe even catch sight of a turtle swimming by.
What we liked: Cocktails at the exclusive Palm Bay Resort.
INCLUDES:
Food
Snorkeling equipment
Guided bushwalk
All entry fees and taxes
EXCLUDES:
Sunblock and towels
Beverages and alcohol
This tour starts and ends at the Coral Sea Marina. Here you can also visit one of the many cafes, restaurants and bars before heading back to the hotel. Because this tour requires moderate fitness levels, it isn't suitable for wheelchair users, anyone with back problems, pregnant women, or kids under 5 years.
Check Price & Book
Whitsundays: Ocean Rafting with Snorkel & Scenic Flight
The highlight of your Australian trip will be this scenic flight over the Great Barrier Reef. You even get the chance to see the most photographed reef, 'Heart Reef' and the 74 islands of Whitsunday. On top of experiencing Whitehaven from the sky, you also get to explore the swirling beach and have a tropical-style lunch.
This operator is the only one to have direct access to all areas of Hill Inlet Beach, ensuring an unforgettable experience. You and your friends will get to snorkel around the islands, seeing bountiful sea life and brightly colored corals.
What we liked: Seeing the Great Barrier Reef from above and below.
INCLUDES:
A 60-minute flight in aircraft
Guided national park walk
Snorkeling equipment and floatation devices
Naturalist talks
Hotel bus transfers
Wetsuit
Food and beverages
This Whitehaven Beach tour involves a thrilling, high-speed boat trip across the ocean from Airlie to Whitehaven Beach and soaring flight in a fixed-winged plane. Therefore, it isn't for the faint-hearted and requires some level of fitness.
Check Price & Book
These Whitehaven Beach snorkeling tours offer a jam-packed day full of snorkeling and adventuring the Whitsunday region. You'll need a moderate fitness level and definitely need to bring some sunblock along.
PROS
Snorkeling gear included
Informative tour guides
Great opportunities for photos
CONS
Not suitable for kids under 5 years
Beverages may be limited
Tours are all very similar
12 reviews for
Whitehaven Beach Snorkeling | Whitsunday Islands Snorkeling 2023
Whitehaven Beach Snorkeling | Whitsunday Islands Snorkeling 2023