If you could have any superpower, what would it be? The answer most people give is 'flying'! And because humans are so awesome, we've come up with a way to pretty much do that without inheriting any magical gifts.
Johannesburg has a number of in-air activities. If you enjoy relaxed experiences then a hot air balloon ride is the ideal tour for you. But if it's an adrenaline rush you're after, then skydiving in Johannesburg is for you. Heading down to the Mother City? Be sure to take a chance at skydiving in Cape Town.
How much is skydiving? Keep reading to find out all the details of skydiving prices in Johannesburg and where to find this superhuman experience.
Skydive Parys
Parys Skydiving claims to be South Africa's premier skydiving center and offers top experiences in Johannesburg. The highly trained instructors apply strict safety measures to protect you and uphold their exemplary safety record.
No matter your experience level, Skydive Parys has you covered. There are tandem jumps for first-timers, a skydiving school for those dreaming of flying solo, as well as fun jumps for experienced and qualified freefallers.
Skydive Parys owns the Apollo T (turbine) aircraft. This is the main aircraft used for skydives and it's equipped with fitted skydiver steps, cushioned floor mats, handles, and a flight door. While altitude is not a certainty, jumpers usually launch themselves out of the Apollo at ±10,000ft above ground level.
An Atlas Angel aircraft is also used during exceptionally busy periods, or when extra lift capacity is needed.
Parys Airfield
Located in the small town of Parys, Skydiving Parys is peacefully quiet, yet accessible. It's just an hour outside of Johannesburg, so traveling from the city for a day of skydiving should not be a problem.
Parys is a charming town, away from the hustle and bustle of city life. It sits alongside the great Vaal River and the Vredefort Dome – a 10 km wide, 2023-million-year-old meteor crater that was recently named a world heritage site.
Prepare to be blown away when you skydive on the Vaal, with beautiful scenic views as you plummet towards the Earth's surface.
Skydiving Johannesburg Prices
Discover the various prices to skydive in Johannesburg.
| | |
| --- | --- |
| Option | Skydiving Price |
| Tandem | From R 2200 pp |
| Experienced Fun Jump (Sport) | From R 270 |
| Accelerated Freefall (AFF) | From R 3300 |
| Static Line | From R 420 |
| Sport Skydiving | From R 310 |
Tandem Skydiving
Tandem skydiving is suitable for first-time skydivers, without any previous experience. It is both the safest and quickest way for novices to skydive. Connected to an experienced instructor, you are in safe hands.
A tandem skydiving trip with Skydive Parys is preceded by a short fifteen-minute briefing. This teaches you everything you will need to know, including:
how the skydiving gear functions,

how to exit the aircraft,

the correct body position when free-falling, and

how to operate the parachute.
After the briefing, you should be ready to go. A twenty-five-minute flight will take you to your jump altitude – this is where the fun begins. You and your instructor will exit the aircraft and enjoy a freefall lasting between five and seven minutes.
Then, once at the right altitude, your instructor will open the parachute, abruptly bringing your rapid descent to a halt. From here you will enjoy between five and seven minutes of gliding. With the spectacular Vaal River and Vredefort Dome below, you are guaranteed a scenic view.
All Skydive Pary's tandem skydiving packages include an experienced tandem master, all basic equipment, and a certificate of achievement to commemorate this memorable experience.
More expensive options including video footage are available. A video tandem package includes footage filmed by your instructor, while the deluxe tandem package uses an outside cameraman.
Skydive Parys Tandem Pricing
R 2200 pp – Tandem Skydiving

R 2950 pp – Tandem Skydiving with photos and videos

R 3150 pp – Deluxe Tandem Skydiving Package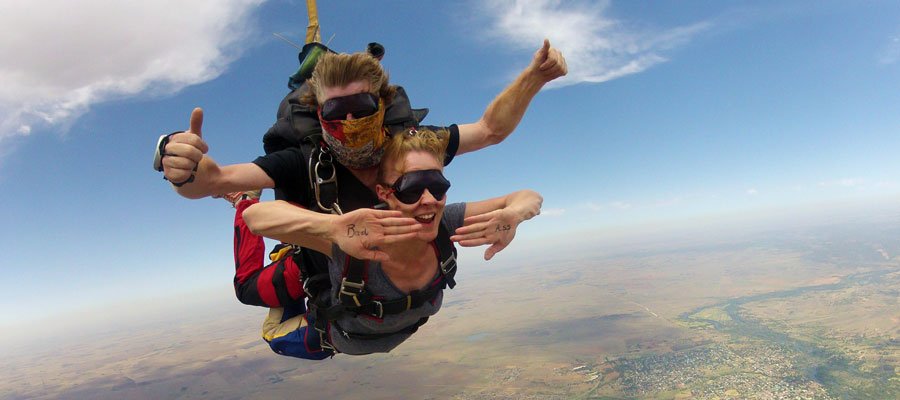 Learn to Skydive Solo
Tandem skydiving is a thrill, but some dream of flying through the air solo, without an experienced master in control. To do this, you will need to go to skydiving school. Skydive Parys is the perfect place to do this, with highly experienced teachers ready to coach you.
The learning process is lengthy, requiring a great amount of concentration and determination. The course includes:
Ground school,

gear rental,

a logbook,

a spot in the aircraft,

professional packing of your parachute, and

a twelve-month membership to the Parachute Association of South Africa.
The first course, which ends in a static line skydiving jump, will cost R1800 pp. While an Accelerated Free Fall (AFF) course will cost R3300 pp.

Fun Jumps For Experienced Skydivers
Qualified jumpers are encouraged to skydive with Skydive Parys throughout the week. Book early, as your spot is subject to lift capacity and aircraft availability. The gear room rents out equipment for those who do not have their own.
Fun Jump Pricing
Per Sport jump

R310

10 000 ft – 11 000 ft AGL

Sport Jump Package

R2900

10 jumps valid for 30 days

10 000 ft – 11 000 ft AGL

Johannesburg Skydiving Club
If you've already done a safari in Johannesburg and completed a city tour, you may want to get a new perspective of the city and its surroundings. Skydiving in Gauteng at the Johannesburg Skydiving Club will give you a fresh view of Joburg.
This club is more than just a place you can pay to skydive, it creates a community of like-minded adrenaline junkies. From complete novices to some of the country's most experienced jumpers, Johannesburg Skydiving Club caters to all skill levels.
The club offers sport skydiving for experienced and qualified jumpers, as well as tandem skydiving for first-time jumpers. They also offer an Accelerated FreeFall (AFF) course and static line skydiving for students working towards their qualification.
Besides building a skydiving community, the club is also a world-class skydiving center. Its skydiving facilities include an enclosed and grass-covered drop zone. Plus a fully equipped rigging room and packing hangar with lockers for your belongings.
There are also state-of-the-art instruction and debrief offices, secure parking, a braai area, and a swimming pool. There is accommodation in the form of campsites, wooden huts, or guesthouses as well as shower facilities for those who want to stay on the property.
Tandem Skydiving
Perfect for someone without any skydiving experience. You jump with a Tandem Master who takes care of everything. Without the need for comprehensive ground school training, you can rock up just an hour before your jump.
Your Tandem Master will run through everything you need to know and help you feel comfortable with what you are about to do. And if you want a video to remember this exhilarating experience, consider the comprehensive packages.
Tandem Skydiving Prices Per Person
R 2260 – Tandem skydive without video

R 2660 – Tandem skydive with Handycam Video

R 3060 – Tandem skydive with video filmed on External Camera

R 3210 – Deluxe Tandem skydive with video filmed on a Handycam and External camera
Accelerated Freefall (AFF)
If you want to learn how to skydive as quickly as possible, then Accelerated Freefall (AFF) training should be perfectly suited to you. This is the fastest route to a solo skydive, taking just 8 weeks to complete the course.
Students are required to attend classes at the Johannesburg Skydiving Club every Saturday at 8 am. Through these classes, students learn all the necessary theory and master the techniques taught at ground school training.
As students progress, they will work their way through the program's 10 levels, which must be completed to pass the course.
Accelerated Freefall (AFF) Prices
R 3245 – AFF Level 1 – Course and the first jump

R 2150 – AFF Level 1 – Static line conversion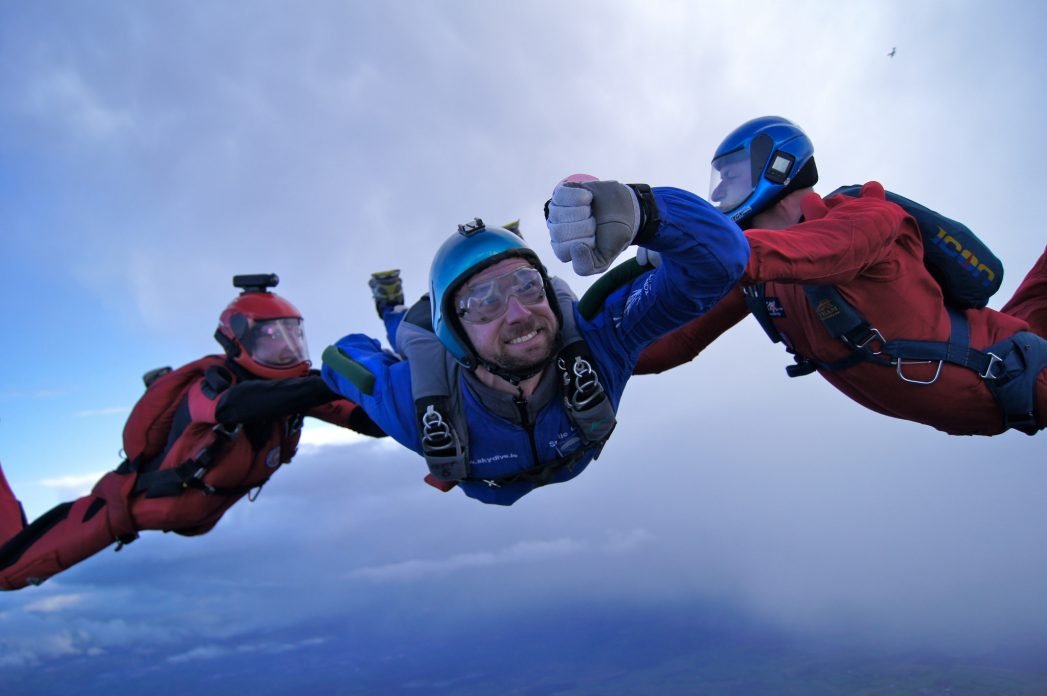 Static Line Jumps
The static line allows you to jump solo after just one day of training, but prevents a true freefall. The static line automatically deploys your parachute when you exit the plane, making it safe for divers with just a day's experience to jump solo.
Static line skydiving is part of the Accelerated Freefall (AFF) course, but can also be booked separately. Jumpers exit the aircraft at 3500ft AGL, where their parachute opens automatically. They will then be required to perform the safety checks and controls covered, as well as fly the parachute. This is all covered in training.
Be aware that one day's worth of training does not guarantee you will be allowed to experience a static line jump. You will be required to demonstrate proficiency during the training before jumping alone.
Static Line Pricing Per Person
R 1510 – Static line course and first static line jump

R 450 – Static line jumps after completing the course
Sport Skydiving
Qualified and experienced skydivers may be interested in sport skydiving. To do this, you must have passed all the required courses and be comfortable skydiving without any supervision or assistance.
Sport Skydiving Prices
R 260 – Own Gear (Hop n Pop 3000ft)

R 300 – Own Gear (Hop n Pop 6000ft)

R 320 – Own Gear (11000ft)

R 430 – Club Gear + Pack (6000ft)

R 450 – Club Gear + Pack (11000ft)
Membership Prices
R 85 – Daily Membership

R 150 – Weekend Membership

R 850 – Annual Membership

R 250 – Foreign Jumper / Temp PASA Card
Skydive Tandem Johannesburg
Skydive Tandem Johannesburg specialises in jumps with an instructor, for people without any skydiving experience. With minimal training, you can freefall from 11 000 feet. Enjoy a beautiful view on the way up before doing the unthinkable and jumping out of an airplane.
With your instructor taking care of everything, you are free to soak up this thrilling experience. You will freefall for well over half a minute, traveling at up to 200 km/h, before the parachute is opened.
You can have the jump filmed by your instructor, or by an additional jumper if you want to share your experience with your friends and family.
Skydive Tandem Johannesburg Prices
Check out the prices for Skydive Tandem Johannesburg.
Weekend Rates
R 1950 – Tandem skydive

R 400 – Instructor filmed video and photography

R 700 – Externally filmed video and photography

R 900 – Deluxe video and photography package (filmed by instructor and 3rd party)
Weekday Rates
R 2700 – Tandem skydiving

Including deluxe video and photography package

Minimum 4 jumpers to confirm booking
Icarus
Icarus Skydiving offers training, tandem jumps and demonstrations. Owned and run by a 15-time South African Skydiving Champion, Manuel Cordeiro, the company is up to date with the latest gear and procedures.
Skydiving School
Run by some of the most experienced hands in the business, Icarus's skydiving school runs three courses – Ground School, the Accelerated Freefall (AFF) Training Program, and Static Line Training.
Ground School
This covers all the theory needed to skydive. Classes take place on weekdays during the evening and take students through 8 of the 10 levels needed to experience their first solo freefall. The classes are held at Icarus, in Edenvale.
After the theory, students will be required to pass a practical evaluation that takes place on the weekend at the drop zone
Accelerated Freefall (AFF) Training Program
This course covers the same material as the Ground School, just in a much shorter space of time. It is the quickest way to experience a solo freefall but is challenging and therefore requires a steely determination. To qualify for this program you must be over 16 years old and weigh more than 100 kg.
Accelerated Freefall (AFF) Training Pricing
R 3500 – AFF first jump

R 2500 – Jump 2 and 3 (each)

R 1650 – Jump 5 to 7 (each)

R 680 – 3x consolidation jumps to graduate
Static Line Training
This short course consists of two classes – an evening of theory in the Icarus classroom, and a day of practical testing at the airstrip. After successfully completing the course, you will be able to experience your first jump.
Although static line jumps do not involve a freefall, you will be required to perform the necessary safety checks, and fly the parachute to safety.
Static Line Training Prices
R 2350 – Static Line Training
Tandem Skydiving
Icarus offers a tandem skydiving package, allowing jumpers without any experience to freefall. No need for any serious training, as your instructor will take care of almost everything. All that is left to do is take in the absolutely thrilling experience of free falling at around 200 km/h for almost 45 seconds.
After the parachute has opened, you will have the chance to fly it, before the reins are taken back for your landing. With the choice between three locations, and an option to have your jump filmed, all your skydiving needs should be taken care of.
Tandem Skydiving Pricing
R 2500 – Tandem Skydiving (Weekend Rate)

R 4500 – Tandem Skydiving (Weekday Rate)
Demonstration Jumps
Demonstration Jumps are an effective way to build up an atmosphere and attract attention. Icarus has a great deal of experience with such jumps, from sports events such as the 1995 Rugby World Cup, to school fundraisers, fetes, and other major events.
They are able to land pretty much anywhere, and can tow banners advertising your brand, making Icarus an exciting way to gain exposure for your business. The cost of skydiving demonstrations varies depending on the type of jump you're wanting.
Skydive Pretoria
About 75 minutes out of Johannesburg, Skydive Pretoria offers skydivers another option. They offer the full range of services which include tandem skydiving, accelerated freefall training courses, and a fun jump for qualified and experienced skydivers.
In Pretoria, the skydiving takes place at the Wonderboom Airport in Onderstepoort, where Skydive Pretoria and the Pretoria Skydiving Club are located. The company runs normal operations, as well as a specialized course in free-flying, wingsuiting, formation skydiving, canopy piloting, and freestyle.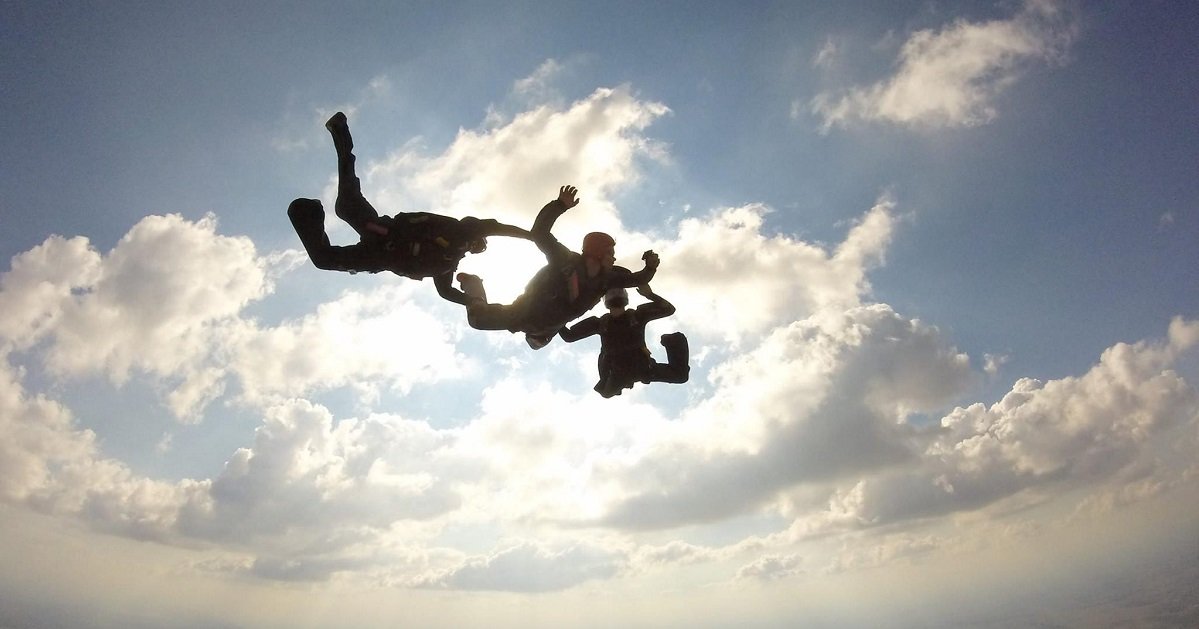 Skydiving Pretoria Prices
Discover the prices at Skydiving Pretoria.
Tandem Skydiving Prices
R 2170 – Standard package

R 2950 – Tandem Jump with video and photography
Accelerated Freefall (AFF) Training Prices
R 14430 – Full course (Level 1 -10)
Final Thoughts On Skydiving In Johannesburg
The City of Gold has so much to offer. Johannesburg safari tours are what travelers are most drawn to. However, there is no better way to make a trip more memorable than taking a leap of faith out of a plane at 11 000 ft.
Sky diving should be on the top of every bucket list. The feeling of flying and living life so close to the edge is an experience you will never forget and one you will be begging to do again.
Last updated on May 29th, 2021 at 11:30 am