Can you imagine what it would look like to see colours dancing across the sky above you? Well, if you plan to visit Norway any time soon, you don't have to. This gorgeous country is home to one of the world's most magical natural wonders, the Aurora Borealis, aka the Northern Lights.
From cruises along the coast to natural hot spring baths, Norway has an incredible array of activities and attractions to keep you captivated during your stay. And with easy access to her Scandinavian sister, Sweden, Norway is a great travel destination.
If any of this sounds appealing, you might wonder: what are the best times to go to Norway? That is why this guide will take you through the seasons and weather you can expect throughout the year, with some fun activity mentions along the way.
Best Time to go to Norway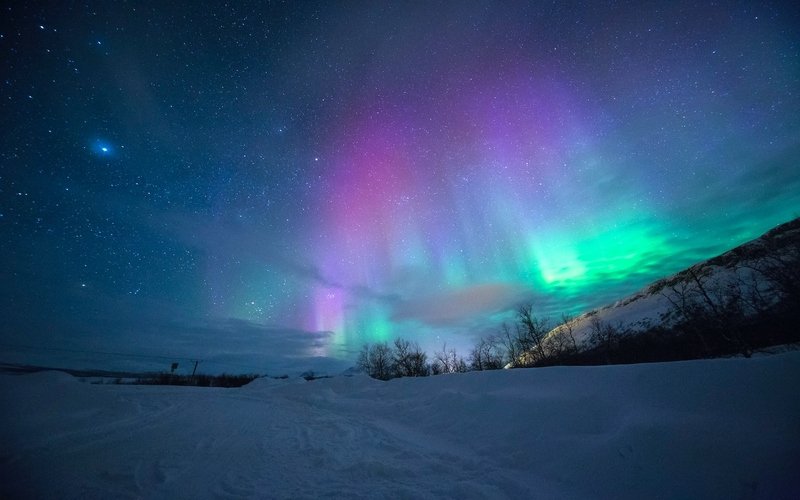 Generally, the best time to visit Norway varies. For outdoor activities in warmer weather, you'd want to go during spring or summer months. However, if you're a nature love looking to witness the Northern Lights, winter time is best. Keep reading to dive deeper into the weather and other criteria that might help you plan your trip.
Best Months to Visit Norway
When it comes to deciding what the best time of year to visit Norway is, there are various factors to consider. Firstly, what is it you are looking for? If you are looking to skip out on peak tourist season, visiting in the summer months are not for you. This might mean that autumn months are right up your alley.
Autumn in Norway | Weather by Month
When planning your travels, knowing the weather conditions are an essential factor. It will help you decide which clothes to pack and what activities to get up to. This section will take you through how the weather may vary by month. Let's look at the temperatures and conditions in autumn: September, October and November.
Norway in September | Best for Brilliant Fjords
As summer draws close and autumn begins, the crowds are much fewer. This is the perfect time to enjoy the stunning scenery in Norway while missing the hustle and bustle of tourist crowds. The weather in Norway varies significantly across the country, but overall temperatures range from a low of 33°F (1°C) to a high of 64°F (18°C).
In terms of rainfall, areas like Longyearbyen typically have light rainfall, whereas places like Oslo have heavier rain. September is also considered moderately sunny, having approximately 146 hours of sunshine throughout the month.
Warning: Temperature and rainfall vary based on location, so some areas might be much colder and have heavier rain than others.
Norway in October | Best for Colorful Scenery
As October approaches, the cooler weather starts to set in, and shorter days are expected. Average temperatures during October range from a low of 21°F (-6°C) to a high of 54°F (12°C). This, once again, mainly depends on which area of Norway you are in.
Rainfall in Norway is typically worse in Oslo, where October is considered the rainiest month. Longyearbyen is still expected to have the slightest rain, with light rainfall expected. Heavy rainfall and snow can be expected in areas such as Bergen in October.
Sunlight hours also significantly decrease since September, with approximately 87 hours of sunshine throughout the month.
Tip: Pack warmer clothes. Weather can change drastically, so be prepared for rain or snowfall.
Norway in November | Best for Lesser Crowds
Once November comes around, you can expect much less sunshine across the country. This also entails fewer crowds of tourists around the country. During the end of Autumn, as winter approaches, temperatures range from a low of 16°F (-12°C) to a high of 46°F (8°C). This varies based on location, similar to other months.
Low levels of rainfall are expected in areas such as Longyearbyen, with heavy rain and even snow expected in places like Bergen and Oslo. Since Winter is just around the corner, sunlight hours drop drastically so that you can expect approximately 63 hours of sunshine throughout the month.
Seasons in Norway | Weather and Activities
As mentioned above, the weather conditions in Norway can be a rollercoaster. Temperatures and conditions vary significantly throughout the year, depending on your area. Let's look at some of these variations by season in Norway and some activities you can enjoy for each season.
Summer in Norway (June, July, August)
Summer in Norway offers the longest days and daylight hours out of the year. The weather during these months can be viewed as the most favourable. Temperatures in summer range from lows of 52°F-65°F (12°C-18°C) to a high of 77°F (25°C).
These warm temperatures make the summer months perfect for outdoor activities. Popular summer activities include hiking gorgeous trails, water sports, skiing, bird watching and animal safaris.
In addition to the longest days, summer in Norway offers what is known as the midnight sun. This wondrous natural phenomenon occurs every summer, where you can experience the beauty of a constant sunset.
The sun never fully sets, meaning you can enjoy the beauty of Norway's natural environment 24/7 for the entire season. To get the whole experience, visiting Norway in early June is best.
Autumn in Norway (September, October, November)
As the seasons change, so do the weather and its temperament. You can expect anything from summer weather to rain or snowy skies during autumn. Temperatures can range anywhere between 16°F (-12°C) and 64°F (18°C).
Rain and snowfall are common, but this varies greatly depending on your location in the country, with some regions worse than others. You can also expect daylight hours to get shorter as the season continues. During autumn, both indoor and outdoor activities are fair game.
Autumn is known as harvest season in Norway so markets will have plenty of fresh and delicious produce up for grabs. These months also offer impressive opportunities for arts and music festivals. This is a great time for experiencing the fascinating culture that Norwegian people have to offer.
If you're a nature lover, it is the perfect time to enjoy the scenery's stunning warm hues. Autumn is also the ideal time to go whale watching and see humpback and killer whales!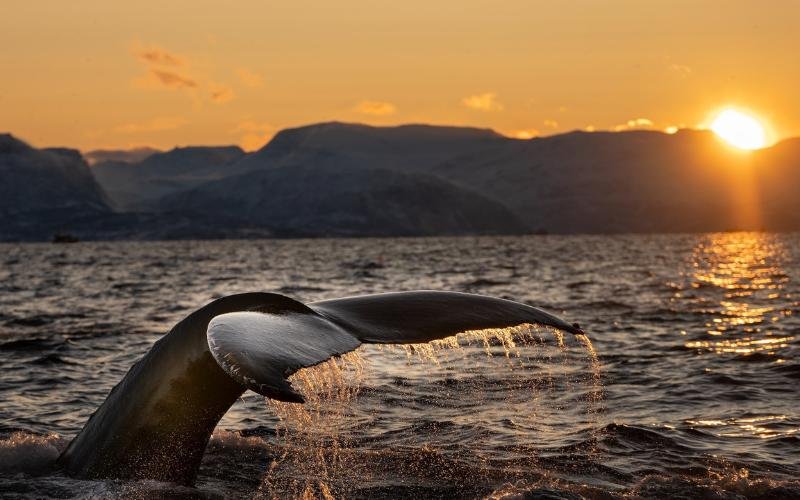 Winter in Norway (December, January, February)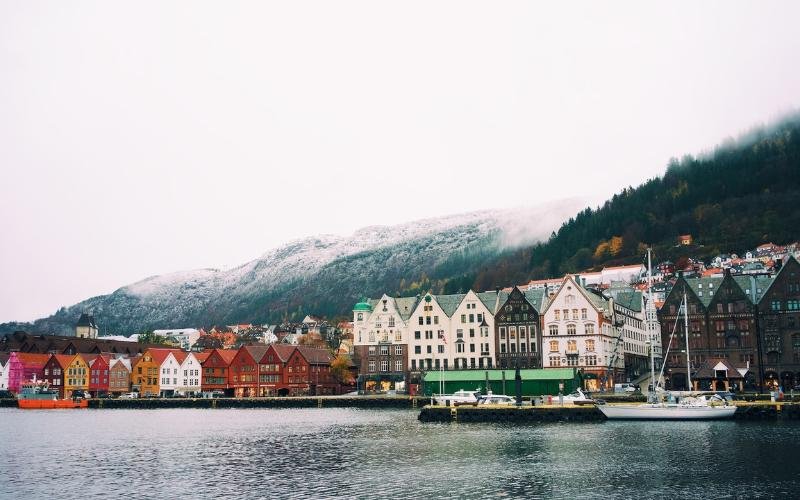 Winter in Norway isn't for the faint of heart. This is the darkest and coldest season, with daylight hours dropping severely. The average temperatures range from lows of 14°F (-10°C) to highs of 42.8°F (6°C).
However, temperatures as low as -9.4°F (-23°C) have been recorded, but this is maybe once a year. Depending on your location, rain and snowfall may vary, but you'll most likely be experiencing a gorgeous white, snowy Christmas.
A plus side for these darker months is the one and only Aurora Borealis. One of Norway's most popular attractions, the Northern Lights, can be experienced in winter. Remember that the Northern Lights aren't just everywhere all the time.
You must be in the suitable locations at the right time, so areas in the Tromsø or Svalbard are your best bet. Winter is also an excellent time to enjoy Christmas markets, activities, and snow skiing. Hot springs and saunas are also a must.
Warning: Driving conditions are dangerous, and many roads might be closed due to snow.
Spring in Norway (March, April, May)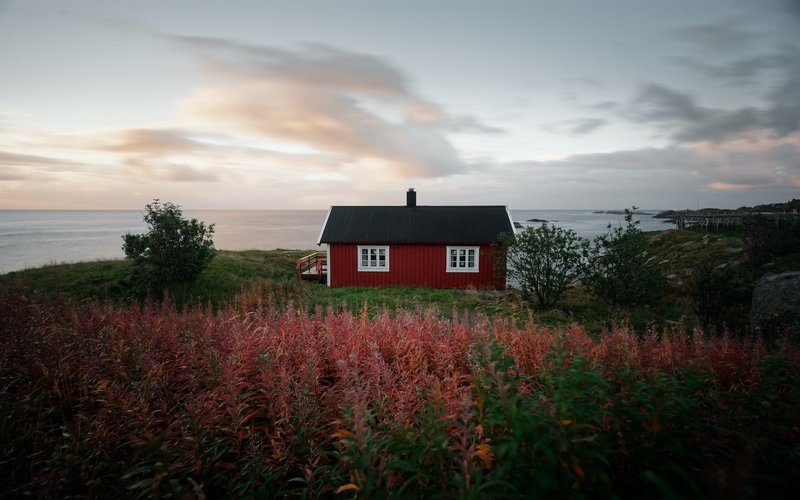 Spring is usually considered the best time to visit Norway, as it is one of the busiest seasons. The mild temperatures allow flowers to bloom across the fields, and the daylight hours will enable you to enjoy the breathtaking scenery.
Temperatures range anywhere between 25°F (-3.8°C) and 75°F (23.8°C). This means that you can enjoy various outdoor activities in warmer weather.
The warmer weather also causes an influx of waterfalls across the country, giving you more opportunities to view the natural beauty of Norway. During spring, you can enjoy sights of the blossoming trees along the famous Hardangerfjord, try out spring skiing, and browse the thriving markets.
Norway is also home to one of Europe's most beautiful hiking locations, the breathtaking Besseggen Ridge. You can expect this and so much more during the spring months.
Best Month to Visit Norway?
So, the question is: When is the best time to visit Norway? Well, that depends on what you're looking for. If you want to experience the Northern Lights in all their glory, November and February are best. If you want to enjoy Norway's gorgeous hiking trails and natural scenery in warmer weather, consider spring or summer months.
Cheapest Time to Visit Norway
If you're looking to save some money during your travels, spring is probably not the season for you. Since this is a high-traffic season, accommodation is more expensive and less readily available.
If you're looking to save, the best time to go to Norway is during the winter months, when costs are generally cheaper. You are likely to come across affordable accommodation packages and offers. However, this does come with the downside of closing many hiking trails and attractions because of the weather.
Best Time to Travel to Norway | Final Thoughts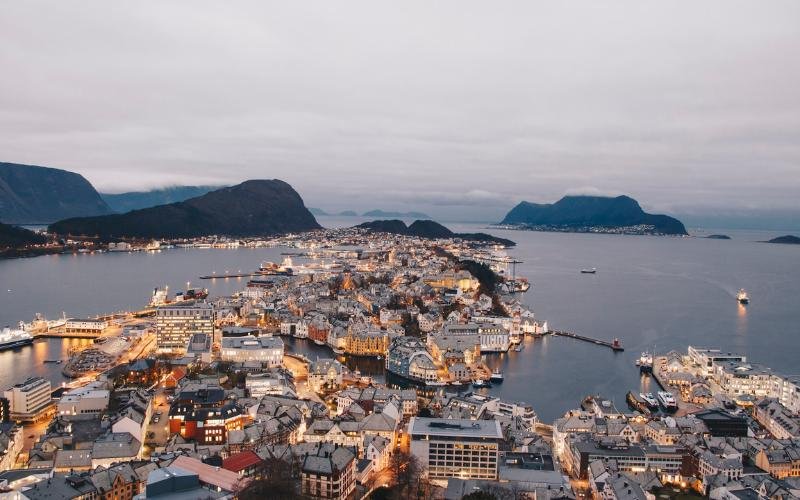 Deciding on the best time of year to go to Norway is a challenging task. Each month, and each season, has its own beautiful and exciting attractions on offer.
Whether you're an adventure lover looking to go on a scenic hike through Norwegian mountains or a nature enthusiast looking to experience the Northern Lights. Or whether you prefer cold or warmer weather. No matter the case, Norway has something to offer anyone.
So, when is the best time to visit Norway? You decide.