Sunset Cruise Cape Town
A trip to Cape Town isn't complete without experiencing the magical African sunset at least once. Don't feel like missing out on one of the most astonishing sights of your trip? A sunset boat cruise with a glass of champagne (or maybe a dinner) is the perfect solution for a romantic visit to the Mother City!
We know how difficult it can be to pick the perfect boat cruise. There are so many to choose from. We've handpicked the best sunset cruises in Cape Town and reviewed them to help you make an informed decision.
Sunset Cruise Waterfront Prices
There is nothing like seeing Table Mountain as the sun goes down, marveling at the glorious beaches that surround the city. If you don't want to miss out on this sunset boat cruise opportunity, compare our different tours and prices and pick the best one for you.
Viator.com

Getyourguide.com

Getyourguide.com
Tigger 2 Royale
The Tigger 2 Royale is one of the most sought after fast cruisers in the entire harbor at the V&A Waterfront. It may be small, but it oozes luxury and is definitely one of the best ways to enjoy a romantic evening with a loved one.
The sunset cruise departs close to the clock tower at the Victoria & Alfred Waterfront. From there you will sail towards Clifton 4th Beach, or if the weather permits, towards Table Bay.
On the way back, that's when the real beauty of the city comes to life. You can watch the sunset over the mother city in contrast with the bright city lights. Table Mountain will without a doubt look incredible. This is a romantic adventure you definitely can't miss.
Operating Times and Days
Sunset cruises can start any time from 17:00 and continue until 20:30 depending on the season.
Duration
This cruise takes approximately 90 minutes.
Cost
Prices can range from R750 ($53, £42, €47) – R850 ($60, £47, €53)
Price Includes
A glass of complimentary champagne
Facilities
Bathrooms are available to use

Upper chill lounge in case of bad weather

Open sundeck

Cash bar available

Lunch or Dinner Catering on Request (buffet-style or canape menu)
Capacity
Maximum of 65 passenger
Sunset Yacht Cruise, Cape Town
Explore Cape Town's waterfront, from the central business district to the Victoria and Albert waterfront, with this hop-on hop-off sightseeing cruise. Along the way, listen to ...
in stock
This Cape Town sunset cruise is a great way to experience the waters around the city, whether you are with family, friends, at an office party, or with a loved one. The private charter ensures a cozy and private affair.
Starting and ending at the V&A Waterfront, you can spend your day exploring one of the most popular and famous spots in the whole city, have some dinner or pre-drinks, before heading to the yacht for your cruise.
We also recommend an exclusive sunset yacht cruise for only one couple. This option is great for special romantic birthday celebrations or proposals. This tour is a 3 hour tour and includes a 3-course dinner and some bubbly!
Operating Times and Days
Monday – Sunday. Sunset Time slots will typically start an hour before sunset.
Duration
60-90 minutes. Private tours can last up to 3 hours.
Cost
Booking a sunset yacht cruise can range from R750 ($53, £42, €47) – R12 000 ($849, £665, €746)
Price Includes
A complimentary glass of champagne

The more exclusive cruises have 3-course dinners included
Facilities
Mens and ladies bathroom facilities available

Upper relaxation lounge for those windy days

Open sundeck

Cash bar available
Capacity
65 passengers
Waterfront Sunset Cruise With Dinner
Do you want to enjoy the most romantic sunset champagne cruise Cape Town has to offer? This rare sunset boat cruise includes a 3-course dinner at a choice of three restaurants in the Victoria & Alfred Waterfront.
Departing from the waterfront, the boat will make its way towards the Milnerton Lighthouse, sailing across Table Bay before slowly sailing back to the waterfront. You'll get to experience the magical sunset over Table Mountain while you're sipping on a glass of champagne.
You get to enjoy your meal ashore once you arrive back at the harbour. The 3 restaurants include different varieties and menus. Italian, traditional local South African grill and Greek food. So spice things up and make sure to choose the best restaurant to enjoy your 3-course meal after watching the glorious sunset.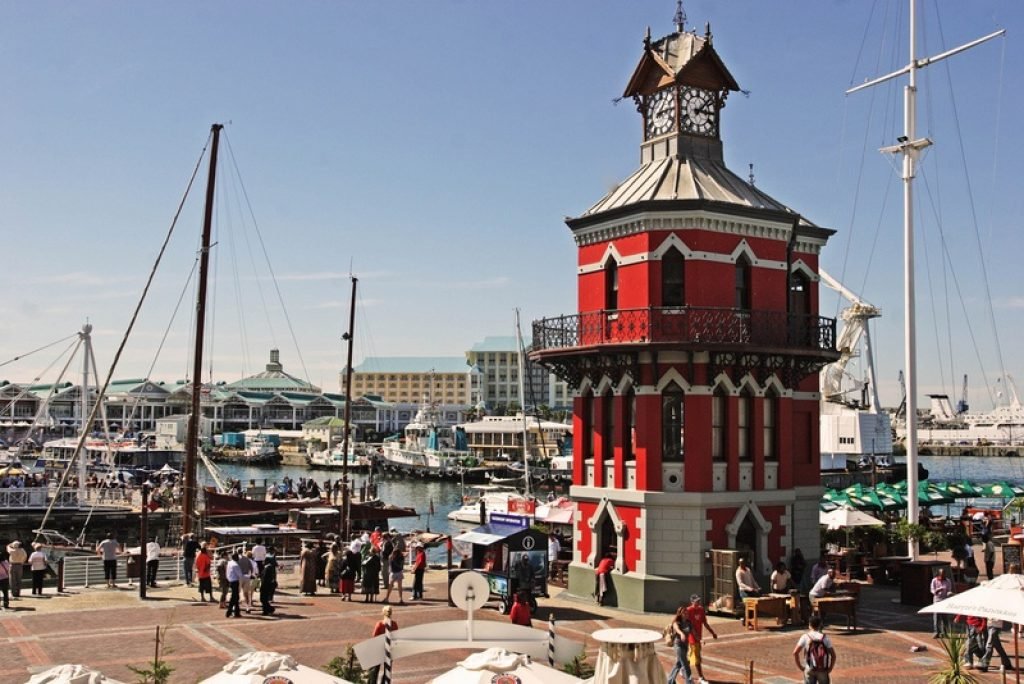 Operating Times and Days
Sunset cruise time slots range from 17:00 – 19:00 depending on the season
Duration
4 hours
Cost
Starts at around R720 ($51, £40, €45)
Price Includes
The sunset cruise, 2 glasses of champagne, 3-course meal and gratuity at your chosen restaurant
Facilities
Toilet facilities on board
Capacity
50-60 passengers
Sunset Catamaran Cruise
Product
Specification
Photos
Deals
Nothing screams romance more than a sunset cruise along the Cape Peninsula, sit back with a glass of sparkling wine, loved one by your side, and let ...
Accessible

No

Duration

90 Minutes

Inclusions

Catamaran Cruise
Glass of Sparkling Wine

Exclusions

Meals

Meals

Self-Catering

Pick-Up

Must meet at IQ Sales Kiosk, North Quay, Waterfront

Suited For

The trip is brilliant for families and friends looking for some relaxation time, and couples who want to enjoy a romantic evening together.
To top off a great day of adventure and sightseeing, relaxing on a catamaran as it floats along the beautiful Cape Town coast is the ultimate way to relax. Throw in the fact that you can watch a jaw-dropping sunset, you have the makings of a very memorable night.
Your cruise will start at the V&A Waterfront, where you will then sail down the Atlantic Seaboard, along with the southern coast peninsula. With the sea on one side, and Table Mountain on the other, be prepared to be mesmerized.
You can also enjoy amazing views of Cape Town Stadium, and depending on the night, it could be lit up. You can also view the city lights as the sun sets. Your cruise will end where it started, back at the amazing V&A Waterfront.
Operating Times and Days
Sunset cruises start around 17:00 – 19:00 depending on the season
Duration
Approximately 90 minutes
Cost
Starts from R410 ($29, £23, €26)
Price Includes
Catamaran cruise and a glass or two of sparkling wine
Facilities
Capacity
40 passengers
Taking in the beautiful sites of the city from the comfort of a yacht or a catamaran is one of the most unforgettable experiences. Pick the best sunset cruise Cape Town has to offer. Once the sun starts to set, you will be captivated by the beauty of the Mother City.
See Cape Town from its most flattering angle
PROS
Experience the Cape's beauty from the sea
Unrivalled natural beauty
Feel like a Russian Oil Baron in the Mediterranean
Chance to see Bottlenose Dolphins and Cape Fur Seals
Pricey options offer supreme luxury
CONS
Some options are pricey
Experience affected by poor weather
Not suitable for persons who especially susceptible to motion sickness
Add your review
|
Read reviews and comments