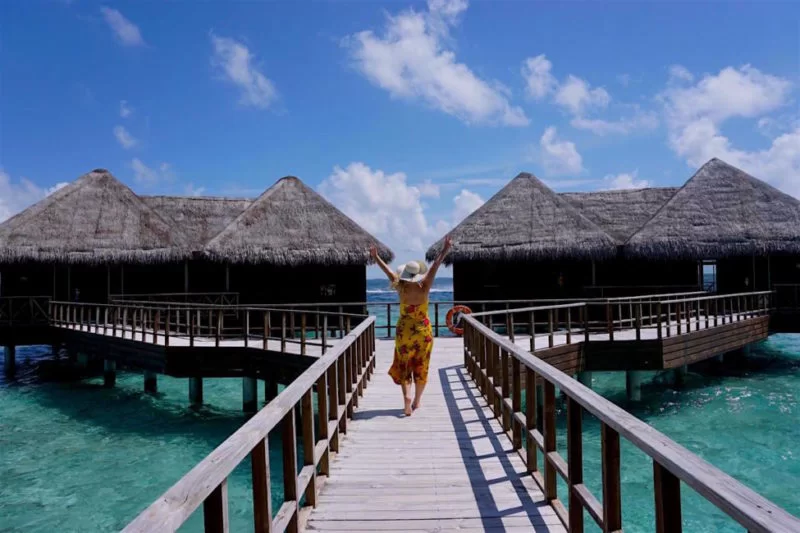 Now that I've travelled to the Maldives twice, once on a budget and once staying in luxury resorts, I find the most commonly asked question is "How expensive is the Maldives?" Everyone knows it is a dream destination, especially popular with couples on their honeymoon, but no one really knows how much things cost…be it in resorts or on local islands.
First off it's important to note that I have divided this post into TWO sections. The cost of a trip to the Maldives if you plan to stay on local islands only and then the cost of a trip to the Maldives if you plan to stay in luxury resorts on private islands. It should also be noted that there are over 200 luxury resorts, and the prices vary enormously depending on how exclusive or upmarket it it.
I will try give some examples of family friendly, affordable luxury and super luxury properties to give you an idea of prices. If you are tight on cash, I suggest you read my Maldives On A Budget post and consider using Airbnb to plan your trip (free sign up credit here).
How Expensive is the Maldives? 
Cheapest flights to the Maldives
The thing that seems to put most people off visiting this tropical paradise is that they think it's too far and too expensive to get to. The reality is that flights to the Maldives are actually quite cheap, especially if you can fly to an Asian hub first. Many budget airlines have started daily or weekly flights from places like Bangkok, Kuala Lumpur and Manila while the flight from Colombo in Sri Lanka is also inexpensive as well as short and sweet.
I always use Skyscanner to search for cheap flights…you can download the App here to make your life easier. Here are some examples of the cheapest flights I could find to Male International Airport. If you are coming from Australia, it's best to fly via Singapore or Kuala Lumpur for the cheapest deals. From Europe, flying to Dubai or India will result in the cheapest deals, as shown in the screenshots below.
NOTE: There's only one international airport in the Maldives (located in Male) so you will need to take a speed boat, ferry or seaplane to your final destination from here which can cost $$$. 
Cost to travel to the local islands in the Maldives
There are over 200 local islands in the Maldives where the majority of the 300,000 plus population lives. Expect to find schools, universities, shops, cafes, restaurants and slowly but surely some local hotels and Airbnb hosts to ensure you can enjoy the Maldives on a budget.
NOTE: Alcohol is not sold on the local islands so if you're looking for a boozy break, you need to check yourself into a resort island instead.
Ferries to these islands start from just $2 for a one way ticket, and while slow, the view is incredible en route! You can find prices and timetables here.
Food and drink costs in the Maldives local islands
Breakfast in a local cafe – $5
Breakfast in my guesthouse – $5
Lunch in my guest house – $8
Dinner in a beachside restaurant – $15
Dinner in my guest house – $10
Ice-cream at local Gelato Shop – $2
Water from the shop – 30 cent
Water from your hotel – $1
Small packet of Pringles – $2
Packet of sweets from shop – $1
Soft drinks – $1
Chocolate milkshake – $3
Accommodation costs on local islands in the Maldives
Airbnb on local island with AC: $25 – $50
Guesthouse on local island: $35 – $50
3 star beachfront hotel: $60 – $100
Activity costs on local islands in the Maldives
Remember, although it might look like pretty beaches and crystal clear water, there are so many amazing things to do in the Maldives so bring lots of energy! My friend went diving with Manta Rays in some of the best waters in the world, and it only set her back $65.
Half day snorkelling trip – $35
One day of diving – $65 – $100
Sand bank excursion – $20
Trip to an All Inclusive resort island including all food and drink– $70 – $150
Cost to travel to the resort islands in the Maldives
The Maldives is home to over 200 drop dead gorgeous resort islands, with dreamlike turquoise waters, perfect white sand beaches and water villas so magical you won't believe they're real.To get to these beautiful resorts can cost quite a lot, and must be factored into your budget.
If you book a package through a travel agent, transfers to your hotels should be included but it's best to confirm this when booking. If you plan to just book your flights and resort separately, be sure you have contacted your resort to ask about the cost of a transfer.
Speed boat transfer within Male Atoll: $90 return per person
Speed boat transfer to resorts in another Atoll: $150+ per person
Seaplane transfer: Between $350 and $500 return per person
Food and drink costs on resort islands
Most hotels will give you the option to go half board, full board or All Inclusive. Considering you will be on a private island and wont have any choice but to eat in the hotel restaurants, going Full Board or All Inclusive is your best bet for value. Only upgrade to All Inclusive if you are a big drinker, otherwise Full Board should cover what you need.
If you are All-Inclusive, food and drink won't cost you anything extra. If you have chosen with Room Only or Half board, then meals will quickly add up. Expect to pay anywhere between $15 (for a pizza) or $40 for a meal at an A La Carte restaurant in your hotel. A meal at the buffet restaurant will normally set you back $30+ plus the cost of any drinks you order INCLUDING bottles of water! Meals in a 5 star resort can cost even more, from $50 per person per meal.
A beer will set you back anywhere between $9 and $12 while a cocktail can be anywhere between $12 and $20.
NOTE: Tax and service charge is always added on at the end and can amount to an extra 22%!! Keep this in mind when budgeting for drinks, meals and activities.
Accommodation costs on resort islands
When people ask how expensive is the Maldives, what they usually mean is "how expensive are those fancy resorts?"! How much you spend on accommodation REALLY depends on what type of resort and what type of room you book. A standard room with beach, pool or garden view will set you back as low as $150 a night in some resorts and as much as $400 in more luxury resorts.
Once you start looking for upgrades to Garden Villas, Rooms with private pools and jacuzzi villas or the jackpot of an Overwater Villa (with or without private swimming pool or hot tub) you can expect to pay anywhere between $400 a night and $2,000 for the creme de la creme of Overwater Bungalows! On a budget? There's even a Holiday Inn with it's own private island…only in the Maldives!!
Let's look at some examples to show you the price differences..
Bandos Maldives
A standard Double or Twin room in Bandos Maldives, with direct beach access, will cost you $210 per room, including breakfast for up to two people. Upgrade to a Full Board package for the night and it will cost just $287.
Paradise Island Resort
Looking for a taste of luxury, one of the best beaches in the Maldives AND budget prices? Check out Paradise Island Resort. I didn't stay here, just visited for a day trip, but was blown away by the beauty. Then when I searched online I discovered they have some of the cheapest water villas in the Maldives – less than $500 a night! If you are REALLY on a tight budget but want to stay on a resort island, standard rooms here are less than $200 a night. Not sure you will find any cheaper.
Kandima Maldives
For something more luxurious, an Aqua Villa with Jacuzzi in Kandima Resort will cost you $673 per night while a water villa with private swimming pool will cost  $738. Both include breakfast, early check in and late check out. If you don't mind been on the beach instead of overwater, you can have a Beach Pool Villa with private pool AND private jacuzzi for $505 a night.
View this post on Instagram
Like stated at the beginning of this post, when people ask "How expensive is the Maldives?" or "How much does it cost to travel to the Maldive?" My answer is always "It depends!". It depends on how long you plan to stay where you are flying from, whether you want to stay in resort islands or local islands and most importantly (cost wise) what type of room you want to stay in.
What IS expensive in the Maldives?
Overwater bungalows and villa.
Alcohol.
Meals at fancy resorts
Snacks at fancy resorts ($6 for a coke?!)
Seaplane rides
Speedboat transfers
Spa treatments (think $150 PLUS tax!)
What ISN'T expensive in the Maldives
Accommodation on local islands
Standard rooms on resort islands
Day trips
Snorkelling trips
Food on local islands
Flights to the Maldives
Ferries to get around
If I have missed anything or your have specific questions about your trip, leave a comment and I'll do my best to respond and update this article! At the end of the day, whatever type of trip you decide to do, it will be one of the best trips of your life as Maldives is an incredibly unique destination that everyone should visit at least one!
Looking for more Maldives travel advice? Check out my other Maldives blog posts below.
Welcome to the sunny side of life!