Add to wishlist
Added to wishlist
Removed from wishlist
0
Add to compare
Many people travel to India because of its rich culture and heritage. Some people visit for breathtaking landscapes and for spiritual enlightenment. If you're looking for a travel experience with all four elements, then a Char Dham yatra might be the right trip for you.
The pilgrim sites on the Char Dham yatra are in high mountainous locations often off the beaten track. A pilgrimage can take up to 12 days to complete on foot or by road. If you're unable to go on a trek for that long because of age, health reasons or time constraints, then it is a difficult expedition to undertake.
Fortunately, you can cut down your travel time to only a few days by helicopter. A Char Dham yatra by helicopter tour gives you the ability to travel without much physical exertion.
Take a look at the best Char Dham tour packages by helicopter available now.
What Is A Char Dham Yatra?
You don't have to be of Hindu faith to do a Char Dham yatra. Tourism is an important part of India's economy. Thousands of tourists of all religions are welcome as long as they are respectful of the spiritual significance of the pilgrimage sites.
Char Dham translates to 'four abodes' and it is the collective name of the four pilgrimage sites in Uttarakhand, India. Each pilgrim site has a shrine dedicated to a god or goddess that is important in the Hindu religion. This pilgrimage or 'yatra' is a highly sacred practice for all people of the Hindu faith. Doing this yatra is believed to help attain salvation and is the ultimate desire of many to visit to have darshan.
Taking or having darshan is the spiritual act of viewing a deity, respected person, or sacred object. Some people offer small gifts and food during this time. In return, the beholder of the sacred object will receive blessings. Some helicopter packages include VIP darshans which means you don't have to wait in long lines for your chance to take darshan at the shrines.
What You Need To Know Before The Trip
Before you can book a Char Dham yatra by helicopter, there are a few things you need to be aware of.
The pilgrimage sites sit between the Himalayan mountains in high altitude locations which can cause altitude sickness.
The treks between temples are long and can take hours by foot or car. Palkis or ponies are available to help transport passengers from the helipads to the temples if needed. A palki or a palanquin is best described as a wheelless carriage carried by humans.
It can get chilly in the mountains so it's best to take warm wool clothing and umbrellas with you in the colder months.
Helicopter rides are suspended during the heavy monsoon season. Pathways can become slippery and especially difficult to walk on for senior citizens.
After the 2013 flood, which cost many lives, Indian governments set up a tracking system. The system tracks how many travelers arrive, as well as their emergency contacts in case of another unforeseen disaster. You now need to do a biometric registration before doing any form of Char Dham trek or tour.
Char Dham Yatra by Air
It takes between 10 and 12 days to complete the Char Dham pilgrimage by land. By air, travel time may be cut down to only two days.
Why You Should Do The Char Dham Yatra By Helicopter
Scenic landscapes and the majestic Himalayan mountains surround the pilgrimage sites. The four pilgrimage sites are Yamunotri, Gangotri, Kedarnath, and Badrinath.
Yamunotri
Yamunotri is the first pilgrimage site of the Char Dham yatra circuit. It is famous for its thermal springs and glaciers found not too far from the temple. Many pilgrims cook rice and potatoes in these thermal springs and place them as offerings at the temple for Goddess Yamuna. In folk tales, if you take a dip in the Yamuna river running through the Yamunotri abode, a portion of your sins are forgiven.
Gangotri
The second pilgrimage site is Gangotri which has more religious sites than touristic sites. The temple is dedicated to Goddess Ganga – goddess of purification and forgiveness. Bathing in the Ganga river is believed to forgive any previous wrongdoings and help attain salvation. Harsil, a town close by, offers picturesque landscapes and mountains almost totally untouched by civilization. Gangotri is an adventurer and nature lover's dream location.
Kedarnath
The third temple in the Char Dham yatra circuit is Kedarnath. The temple is dedicated to Lord Shiva who is the most divine of all among all Hindu gods. It is the most remote temple and sits at the foot of the Garhwal Himalayan range near the Mandakini River. Taking a helicopter ride to Kedarnath offers a beautiful look over the mountains and river.
Badrinath
Badrinath is the last temple on the circuit and is the most popular and most-visited site out of the four. The shrine is dedicated to Lord Vishnu- the god of preservation. Nearby the temple is the Vasundhara falls, whose water only the purest and chaste can relish in.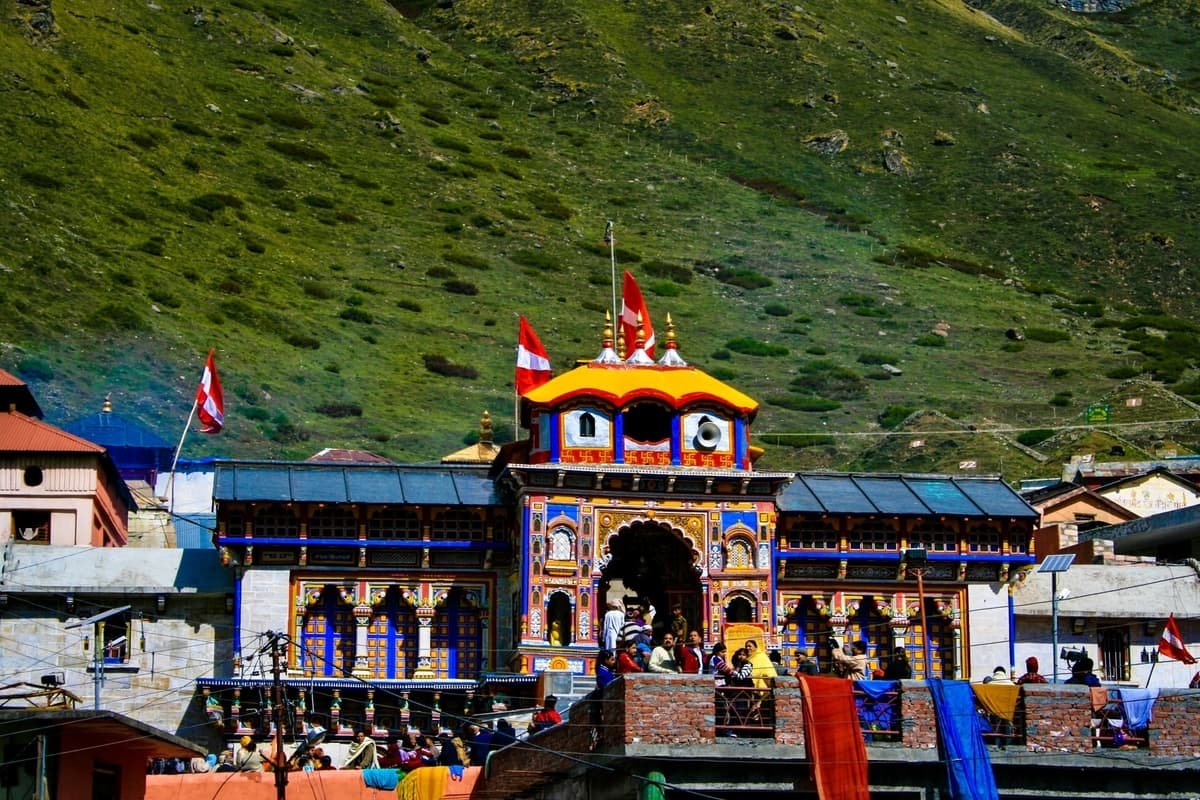 Char Dham Yatra By Helicopter Price
There are a few agencies that offer Char Dham yatra tour packages by helicopter. How long you plan on travelling depends on your schedule and budget. All packages offer VIP darshans and accommodation and meals are included.
Char Dham Yatra Package Cost By Helicopter
Costs are quoted by person and become more expensive the longer you plan on travelling.
Himalayan Heli
They offer a variety of packages that all start and end in Dehradun. Local sightseeing opportunities are available with tour guides. Only hand luggage is allowed with a maximum of 5kg per person.
Five days and four nights tour price:
INR. 175 000 ($2 381) per person
Two days and one-night tour price:
INR. 150 000 ($ 2 040) per person
Bizzare Xpedition
Meals included in the packages are European or American meals for all five days of the tour. You can add excursions to your packages like the hot springs in Yamunotri or a nature walk in Harsil. They also offer airport transfers and transport to accommodation.
Five days and four nights tour price:
INR. 155 000 ($ 2 116) per person
Heritage Aviation
All tours from Heritage Aviation start and end in Dehradun with a few stops in between. Palki or pony rides are included for your convenience in the trek to Yamunotri temple. Most treks start early in the mornings to allow time for lunch and rest by the afternoon.
Two days and one-night tour price:
On request
Five days and four nights tour price:
INR. 169 000 ($ 2 307) per person
Is A Chardham Yatra By Helicopter Worth It?
Many tourists visit India on meditation and spiritual grounds. India also has breathtaking landscapes and architecture to offer. It certainly offers an incredible mix of spiritual and physical amazement. Similarly, a helicopter Char Dham yatra offers you an opportunity to experience both by air.
There are many Char Dham tour packages by helicopter to fit your time and financial budget. You only need to choose which option is the best for you.
The Maldives is just off the coast of India. Why not visit the Maldives next?
Char Dham Yatra by Helicopter | Spiritual Tour By Air