Last updated on February 4, 2023 2:08 pm
Add to wishlist
Added to wishlist
Removed from wishlist
0
Add to compare
The food in Indonesia has a reputation that precedes it. From the simple, spicy flavors of Nasi Goreng, to the taste of peanut satay, Bali food is a highlight when visiting Indonesia. One of the best ways to experience the food is with a Balinese cooking class that breaks down the flavors and offers an enriching time for the whole family.
Know before you book:
Pick-up is available at an additional request
The afternoon class in Ubud is shorter and doesn't include the market tour
Recipes and notes are supplied to keep
There is a choice of meat or vegetarian dishes
Highlights:
Discover the culinary secrets of authentic Balinese cooking
Experience the hustle and bustle of a local market
Enjoy a fascinating stop by a rice plantation
Indulge in a meal that you created with your fellow cooks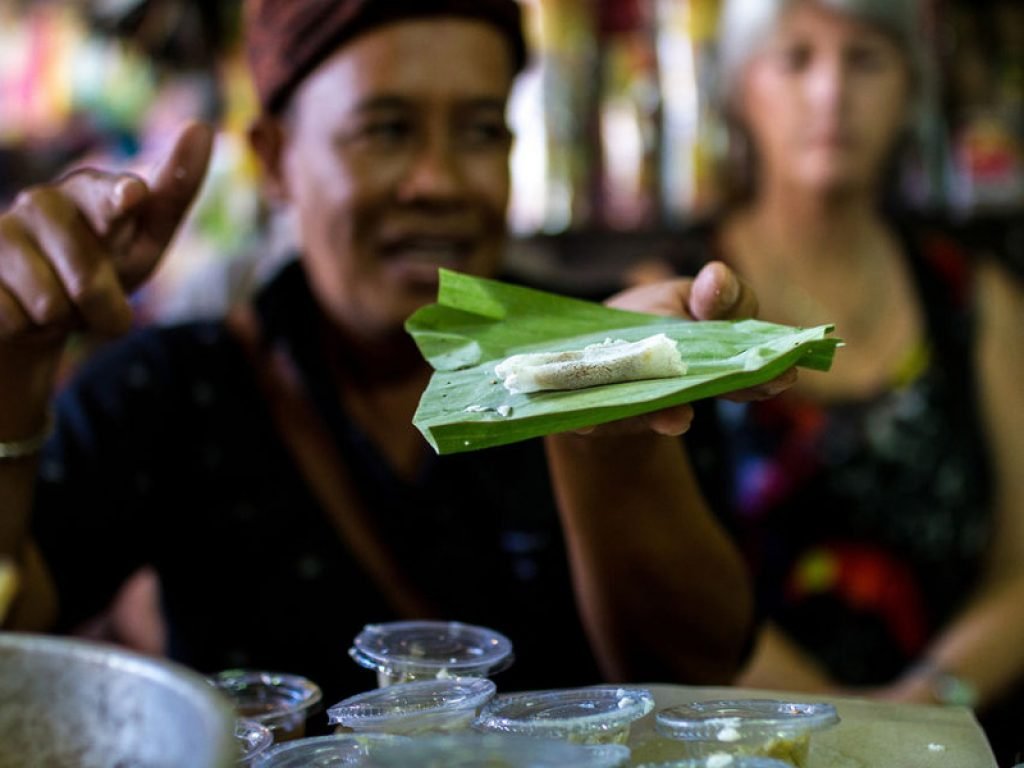 Attending a Balinese cooking class is one of the best things to do in Bali. Travelers come from far and wide to learn the secrets of authentic Balinese cooking. Part of the experience involves going into the bustling market and picking the best of the fresh ingredients, and learning about how they are cultivated.
Travelers experience everyday life in Bali as they start at step one and end with the final step of sampling their tasty goods. Cooking classes in Bali offer a really special way to get acquainted with the local culture and flavors of the island. There are several experiences to choose from, depending on where on the island you are based, and how much time you have to spare.
Balinese Cooking Class Prices 2021
The price of a cooking class in Bali varies, depending on where you are and what your experience includes. You can enjoy a fairly well-priced class for as little as USD $30, or opt for a more expensive option reaching up to USD $76 and including other attractions in your day.
Learn the secrets of Balinese food at a half-day cooking class in a traditional village. Visit a local market to select fresh ingredients, enjoy scenic views from a rice plantation and get help to cook an authentic meal in a beautiful kitchen-garden.

Rasa gurih pedas khas Bali dapat anda ciptakan pula di dapur sendiri menggunakan bahan sehari-hari. Asalkan, anda tahu rahasia memasaknya. Dalam cooking class inilah, rahasia itu akan terungkap. Pesan kelasnya hanya di Klook.
Travelers with a tight schedule who can't afford to travel inland can still discover the flavors and smells of traditional Balinese cooking with this private evening cooking class. Instead of going to a village in rural Bali and spending the full day there, book this package and have your class...
Bali Cooking Classes Times
Depending on what time best suits you, you can choose a morning cooking class (which includes a fresh market experience) and enjoy your meal for lunch. Alternatively, you can opt for an afternoon cooking class which includes dinner.
Monday – Sunday: 8:30am – 7pm
Best Time to Go
Both sessions are great, so choosing a time really is down to your own preferences. If you want to experience the fresh food market, then the morning is the best option as this part of the experience is not included in the afternoon session.
Cooking Classes In Bali Options
Whether you are based in Ubud, Kuta, or Seminyak, the ultimate culinary experience will be made available for you. Have a look at some of the best experiences to choose from here.
Cooking Class Ubud
Of all of the cooking classes Bali has to offer, the authentic cooking class in an Ubud village offers a truly memorable experience. The half-day experience includes a visit to a local market, where the chef will help you pick out the best ingredients. Make sure that you take the time to enjoy the incredible views from the rice plantation.
The meal is then prepared in a beautiful kitchen-garden with a group of fellow cooks. Pick from the option of a morning or afternoon session, but take home a certificate either way!
What we liked: A truly authentic experience that teaches the secrets of Balinese cooking.
INCLUDES:
Pick-up and drop off from Ubud hotels
Fresh market tour
Balinese tea and coffee
Cooking lesson
All ingredients
Lunch
Certificate
EXCLUDES:
Pick-up and drop off outside Ubud
Gratuities
If you are in the Ubud area, or even if you are not, these authentic cooking classes are an unforgettable experience.
Check Price & Book
Bali Cooking Class Seminyak
This Seminyak cooking class teaches travelers various tricks to prepare iconic Balinese meals. You can choose from a vegetarian menu, or a regular menu, knowing that whatever you choose, your stomach (and mind) will be fully satisfied. As an added bonus, the cooking class is located a short distance from top attractions in Seminyak.
What we liked: The ultimate cooking class if you are based in the Seminyak region.
INCLUDES:
Pick up (for morning session)
Morning market tour (for morning session)
Balinese tea or coffee
Ingredients
Completed meal
Check Price & Book
Bali Cooking Classes Kuta
This full-day experience is inclusive of far more than just food and a lesson. Travelers cycle to a local vegetable plantation to pick fresh ingredients, learn to make meals such as coconut satay, and feast on a 3-course home-cooked meal. But that's not all! The experience also includes a visit to Taman Mumbul Temple and Tanah Lot Temple!
What we liked: This is a very dynamic experience that highlights the beautiful Balinese culture in Kuta..
INCLUDES:
Hotel pickup
Lunch
Entrance fee
Guide
EXCLUDES:
Gratuities
Alcoholic drinks
Check Price & Book
If there's only one thing that you choose to do in Bali, make sure that it's a cooking class near you. It's the best way to learn about the culinary culture of the island!
PROS
Option of morning or afternoon session
Fairly inclusive experience
Genuine fun for the whole family
CONS
Afternoon session doesn't have market experience
Pickup is not included past a certain point
Specification:
Bali Cooking Class (Ubud, Seminyak & Kuta) 2022
| | |
| --- | --- |
| Accessible | Not Specified |
| Duration | Half Day |
| Includes | Entire experience, Experienced guide, Hotel pick-up and drop-off |
| Excludes | Gratuities |
| Meals & Drinks | Meals and drinks included (non-alcoholic) |
| Pickup | Pick-up and drop-off included |
| Suitable For | Everyone, Families |
9 reviews for
Bali Cooking Class (Ubud, Seminyak & Kuta) 2022
Bali Cooking Class (Ubud, Seminyak & Kuta) 2022