Rio de Janeiro… One of the most vibrant cities you'll find not only in South America but in the world. Renowned for its gorgeous beaches, friendly people, and, of course, being the home of Samba and Carnival.
The city has great weather all year round, which makes it a great vacation spot for many people. That does, however, pose a slight problem. If the weather is excellent all year round, when is the best time to visit Rio de Janeiro?
Heading to South America? We'll dive into all the details in this guide to help you find the best time to visit Rio. Let's get started.
Best Time to Go to Rio de Janeiro
The best time to go to Rio often depends on what you'd like to get out of your trip. Rio is always abuzz with activity. But, certain factors, such as Carnival and the weather, can be a game changer when planning your trip.
Each season brings about something different, so there's always something to look forward to.
Spring in Rio (September – November)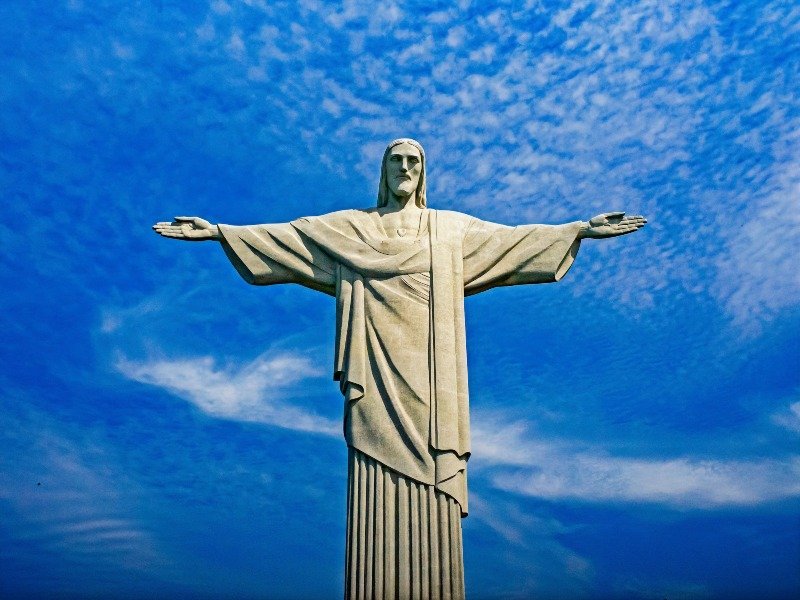 Like most places, Spring is the shoulder season in Rio. It's a lovely time to visit Rio because you'll enjoy some of the city's best sightseeing tours at a slower pace. You'll also get to see what the city is really like without the hordes of tourists.
This is the best time to visit all of Rio's iconic attractions, like the Christ the Redeemer Statue, without having to wait in endless lines.
The weather is lovely during this period, with average temperatures of about 77°F (26°) and minimal rainfall. It's the ideal time to lay on the iconic Copacabana Beach while sipping on a typical Brazilian drink served in a coconut.
Many people also enjoy hiking during this time in the Tijuca Rainforest, which has some of the best waterfalls, trails, and viewpoints of Corcovado Mountain. Overall this is the best time to fly to Brazil as flight tickets and accommodation cost much less than other times of the year.
Key Events:
Rio Film Festival (September)
Orchids in Springtime (September)
Formula 1 Brazilian Grand Prix (November)
Summer in Rio (December – February)
We won't lie. Summer in Rio is hot… Really hot. This is the most humid time of the year, and you can expect temperatures to average between 82 and 104°F (28 and 40°C). If you're a beach bum, then this kind of weather is perfect for you to laze around on the beach all day and work on your tan.
Summer is a beautiful time to visit Rio; however, this is also the city's peak season. So if you were hoping to avoid crowds, then this is not the season for you. Flights and accommodation prices also rise as the temperatures do during this season, so it's not a great time to visit if you're on a budget.
The silver lining in all of this is that this is when the city host's its iconic Rio Carnival which is arguably the most incredible show on earth. Carnival is a once-in-a-lifetime experience, so it might be worth it to fork out the extra cash to attend it.
Beware, though, the city does receive quite a bit of rain during this time.
Key Events
Culture & Science Day (November)
Reveillon (31 December)
Carnival (February)
Tip: Summer is the perfect time for a hang gliding tour over Rio, where you'll get to see the city from a different perspective.
Autumn/Fall in Rio (March-May)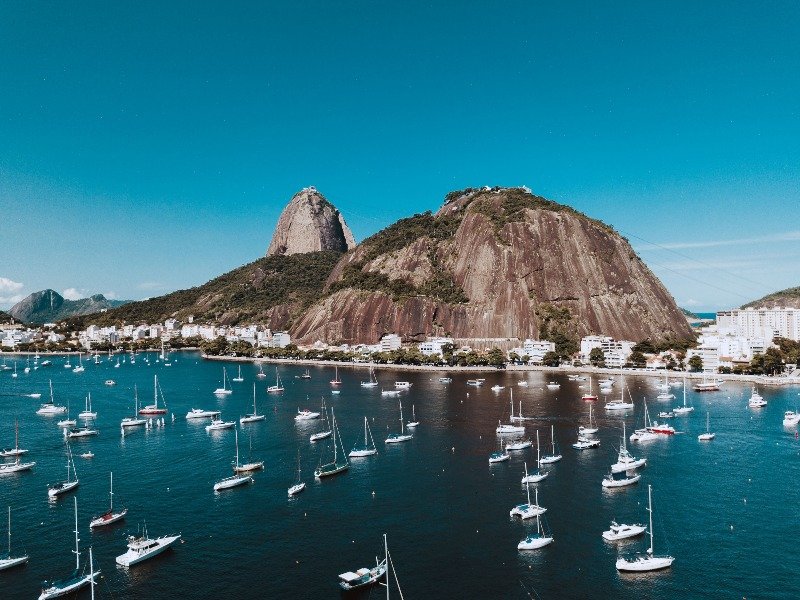 Fall in Rio is unlike most places. While other places start experiencing colder weather and brown leaves, it's quite the opposite in Rio. Fall in Rio is a lot less humid, with temperatures reaching up to 77°F(25°).
It also normally doesn't rain around this time, and the city sees much fewer crowds. Accommodation and flights are also very reasonable during this period. This is also Brazil's harvest season when coffee, cocoa, and other fresh produce are freely available, so be sure to take advantage of this.
Along with Spring, fall is the perfect time to go sightseeing or enjoy a sunset cruise around the gorgeous Guanabara Bay.
Key Events
Winter in Rio (June – August)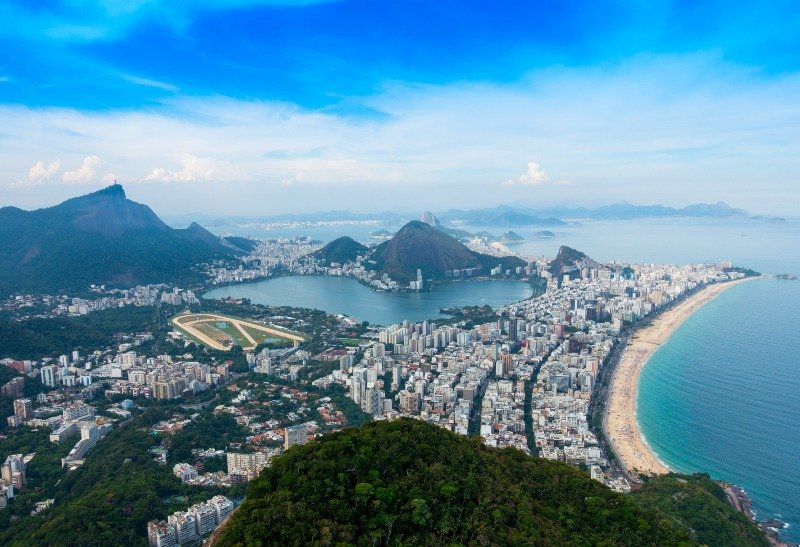 Winter is probably the best time to visit Brazil. When most people think of winter, they think of grey clouds, shower storms, or thick snow. Winter in Rio couldn't be more different. The average temperature in the city is usually around 75°F(24°) with minimal rainfall. It does become slightly cooler in the evening, with temperatures dropping to about 60°F(15°)
Surfers enjoy these seas, mainly as the beach is quite empty and the waves are perfect for surfing. Rio is not as crowded in winter as it is in summer. But, many tourists coming from North America and Europe can be found in the city around this time, as it is their summer break.
Flight tickets and accommodation are still significantly less than in summer but still more expensive than what you'd pay in Spring and Fall.
Key Events
Bonfire Festivals (June)
Brazilian Grand Prix Horse Race (August)
Peak Season in Rio
The peak season in Rio lasts from December until February. These are the summer months when everyone flocks to the city to celebrate the holidays and enjoy the Carnival. These are also the hottest months, with many people flocking to Rio's beaches to cool off.
Best Time to Visit Rio Overall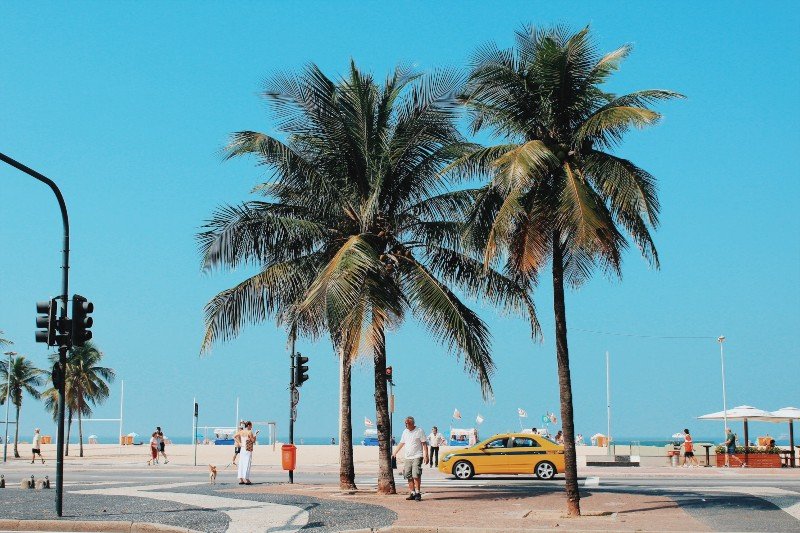 The best time to visit Rio overall is in Spring. September through November are relatively quiet, making it the perfect time to see all of Brazil's top attractions. You can get the best deals on flight tickets, accommodation, and food during this time.
Final Thoughts on the Best Time to Travel to Rio de Janeiro
There you have it. A season-by-season guide on the best time of year to visit Rio de Janeiro and what you can expect. Since there isn't a bad time to visit Rio, it just depends on you and what you'd like to enjoy during your trip.
Either way, you're in for a wonderful time no matter what time of the year you choose to go to Rio.
Enjoyed this guide? Check out these guides on the best time to visit Peru and touring South America next.