Aconcagua Tour Tickets | Mountaineering, Guided Climbs & More
Last updated on March 31, 2023 7:38 pm
Add to wishlist
Added to wishlist
Removed from wishlist
0
Add to compare
Cerro Aconcagua is found in Mendoza, Argentina, and borders Chile. It is also the highest point found in the Western Hemisphere. Mt. Aconcagua is part of the Andes Mountain range, and while it is not an active volcano, it is said to have formed due to historic volcanic activity in the region.
This spectacular mountainscape is also home to a plethora of exciting outdoor adventures in Argentina, from a BBQ in the summertime to mountaineering, camping, and even horseback riding. Visiting this amazing feat of nature is something you just have to do while you're exploring Argentina.
Keep reading for some excellent tour opportunities and learn everything else you need to know before tackling an Aconcagua Mountain tour on your own or an Aconcagua guided climb.
Highlights:
Experience one of the Seven Summits
Beautiful views
Biodiversity
Know before you book:
A physically taxing climb
High-altitude expedition
Minors under 14 are not allowed into the park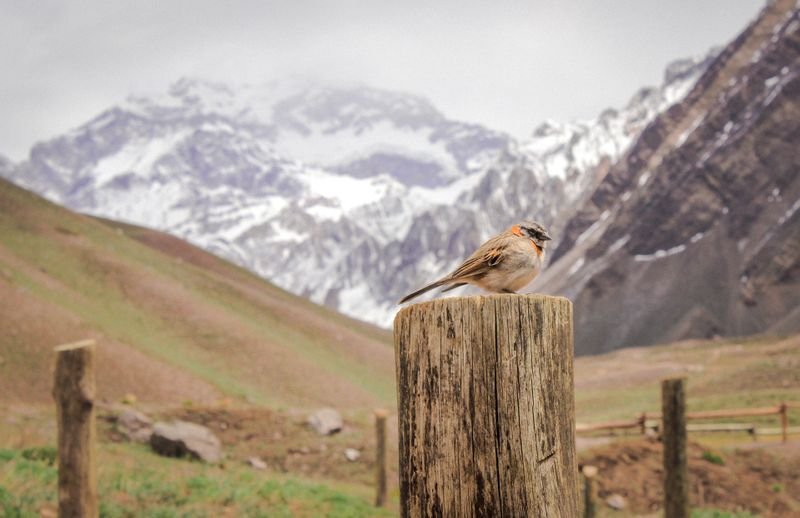 If you're interested in conquering the Seven Summits, climbing Aconcagua is one of the South American must-see bucket list items. The mountain measures around 22,000 feet high and is known to have two summits, one on the north and one on the south.
The name is said to mean the "Sentinel of Stone" and comes from the Quechua language, indigenous to the Peruvian Andes. During your time atop the mountain, you'll come across a range of beautiful birds, foxes, rats, amphibians, and reptiles.
Even if birding isn't one of your favorite things to do, climbing Aconcagua allows you a chance to spot the Plumbeous Sierra Finch and Black-fronted Ground Tyrant, among so many others.
Aconcagua Mountain Prices 2022
Aconcagua is a recognized Provincial Park and is quite well monitored. Permits are required for entry. For this reason, the price will vary between different tour providers and may even vary according to the season.
Check each tour provider's fine print before booking for any terms and conditions, as they're likely to book permits for you in advance. Prices vary from between $97 USD (12,232.42 ARS) to $143 USD (18,025.10 ARS) for two adults. Other tours will price per person and can start anywhere from $33 USD (4,182.75 ARS) for public tours to around $262 USD (32,953.58 ARS) for private tour groups.
Aconcagua Mountaineering: Best Time to Visit

The usual season to visit this mountain is between November through March. Weather conditions are quite important as it can become rather windy on the Aconcagua mountain. So, December, January, and February is the prime Aconcagua climbing season with the warmest temperatures and the best days for hiking.
Despite the great weather, though, you'll need to be prepared for just about anything as the mountain can be quite unpredictable. Luckily, these tours won't take you right through to the top of the mountain. Instead, you'll be able to enjoy some fun activities a bit closer to sea level.
Whatever activities you decide to experience, you'll definitely want to consider the season. If trekking and camping are on your bucket list, then it'll be best to visit over the summer season. Winter is a definite no-go, due to the snow and inclement weather.
Spring also offers quite a lovely time of year if you're specifically interested in sightseeing or venturing off to the various villages around the mountainside.
Top Andes Sightseeing Tour Times
Most of the Andes sightseeing tours will start between 7:45 to 9:30 am. Since the majority of the tours will take you around various routes passing a couple of villages or natural arches like Puente del Inca, your end time will vary as well.
Some tours are half-day and offer a barbecue at the end of the day or are a full-day trip around the mountain while horseback riding.
Mount Aconcagua Tours

You may be wondering why Mount Aconcagua is famous and worth the visit. While it is an absolutely beautiful mountain to behold, it is also considered one of the most dangerous, thanks to having the highest death rate for those attempting to reach the summit.
The ascent can last anywhere from three to 20 days, depending on your route and desired stopping point. But, visiting this mountain for a day or two can be just as rewarding, considering that it's naturally challenging and mentally taxing. It's a sure test of your strength and ability, but can also be a fun way to blow off some steam while enjoying wondrous views.
Nonetheless, these Aconcagua mountain tours will take you through the safest and most convenient routes. Climbing with a guide will ensure that your experience is not only interesting but that you'll get back safely to celebrate with some wine-tasting in Mendoza.
From Mendoza to Aconcagua: High Andes Aconcagua Mountain Tour
From downtown Mendoza, this tour provider ensures a safe early morning pick-up and a full day of wonderful sights to see. Enjoy the action-packed day with a private or public group, but most of all, you'll enjoy the excellent views.
This tour is geared toward the sight-crazed tourist as opposed to the outdoor adventurer since it includes more opportunities for photos than hiking. Nonetheless, it's a wonderful chance to explore the region near the mountain as well as villages like Las Cuevas and Uspallata.
What we liked: Spanish, English and Portuguese guides available.
---
INCLUDES:
Hotel pick-up
Tour in various languages
Experience guide
EXCLUDES:
Food and drinks
Tips
Entrance to Horcones Lagoon
This tour not only takes you to the Aconcagua Mountain but also takes you to discover sights like Puente del Inca, Route 7, the village of Uspallata, and more.
Check Price & Book
---
Full Day Aconcagua Experience
This wonderful tour offers you round-trip pick-up and drop-off transportation as well as a journey to some of the best places around the Aconcagua Provincial Park. You'll start your day off with a hike where you can test your physical strength. And catch a peek at some of the best flora and fauna the park has to offer. Ensure that you've got your passport and permit as the tour guide will not arrange this in advance.
Thereafter, you'll venture off to Potrerillos Dam along route 86 and cross the tunnel at Cacheuta village. You'll catch a glimpse of the Cordón del Plata Range, where Mendoza's water comes from. Then finish your day off with a visit to Puente del Inca.
What we liked: Accepts a maximum group of 12.
---
INCLUDES:
7:30 am pick-up
Technical stop for lunch
Stop for a morning snack
EXCLUDES:
Admission to other sites
Entrance fees to Aconcagua Provincial Park
This tour is great for both adventurers and sight-driven tourists. It offers a unique blend of fun activities within the region as well as a less daunting hike up the deadliest mountain. The tour also has a smaller group than most, so you can travel at ease knowing you'll be well looked after.
Check Price & Book
---
Small-Group Tour of Aconcagua with Barbecue Lunch
This tour takes you along the Trans-Andean railway, passing by a few beautiful places like the Luján de Cuyo and Cacheuta. Your trip is filled with intriguing information and beautiful sights to see.
Not only do you venture through ornate gates like Portones del Parque San Martín, and mountain roads like Los Penitentes but you also get a visit to Lago Potrerillos, Puente del Inca, Uspallata and Aconcagua Provincial Park.
What we liked: All-inclusive tour and great value for money.
---
INCLUDES:
Lunch, wine and soft drinks
Morning tea/coffee
Professional guide
All fees and taxes
This tour covers everything with a once-off payment, from the park fees and permits to the extra admission tickets and even some good old traditional Asado. For your lunchtime, you'll experience Argentinian barbecue paired with local wines and great company.
Check Price & Book
---
The Aconcagua mountain offers spectacular views that are not to be missed. It is also an experience of a lifetime to say that you've explored one of the Seven Summits. Any of the tours would offer beautiful activities to make this excursion easier to do and a ton of fun.
PROS
Pick-up included
A trained guide to lead you
Beautiful 360-degree views
CONS
No wheelchair access
Physically, emotionally and mentally taxing
No food included
17 reviews for
Aconcagua Tour Tickets | Mountaineering, Guided Climbs & More
Aconcagua Tour Tickets | Mountaineering, Guided Climbs & More