7 Best Atlantic City Helicopter Rides in 2023 | Steel Pier Tours & Prices
Last updated on October 2, 2023 2:41 pm
Add to wishlist
Added to wishlist
Removed from wishlist
0
Add to compare
An Atlantic City helicopter ride is an experience like no other. The resort city, known for its grandiose casinos and iconic Boardwalk, is a marvelous spectacle best viewed from above.
The many glamorous high-rise hotels and nightclubs make for some amazing views when soaring past in an Atlantic City helicopter. From the gorgeous coastal area with its wide beaches and flashy casinos to the bustling shopping centers, Atlantic City rides are not to be missed.
The US is brimming with exciting helicopter tours over several cities on the Atlantic coast, such as Myrtle Beach. In this article, we have listed some of the best Atlantic City helicopter rides from Steel Pier as well as a few helicopter rides from NY to this glitzy resort city. Allow us to help you plan the perfect trip over this magnificent city.
Helicopter Rides in Atlantic City
An AC helicopter ride is a wonderful way to explore the city. Whether you are a NY resident looking for a little holiday or a curious tourist, there is an AC helicopter for you. Soar over the sparkling city lights on a night tour or fly along the gorgeous shoreline from your seat up in the sky. With so much to see, Atlantic helicopters are ideal for exploring this magnificent place.
Here are some of the best tour options for a magnificent helicopter ride in Atlantic City.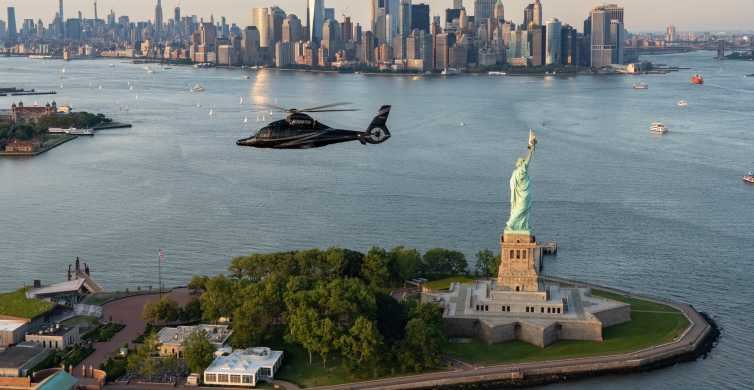 Steel Pier Helicopter Rides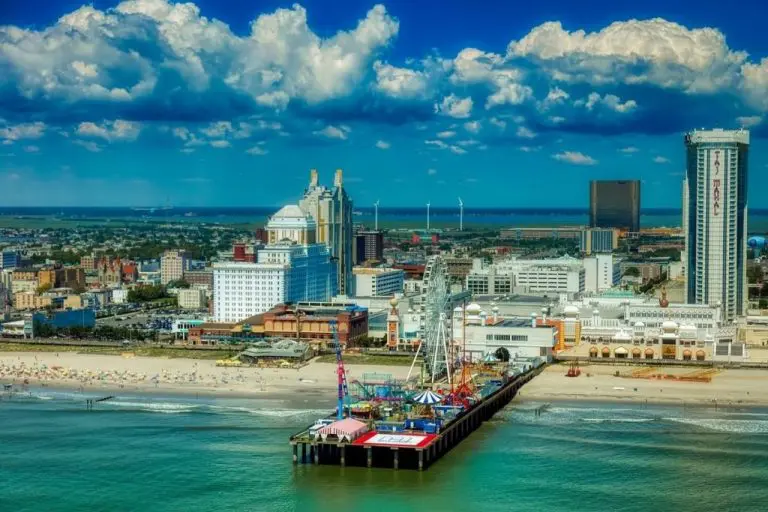 Located on the Atlantic City Boardwalk, Steel Pier Helicopters offer luxurious tours over the city. Steel Pier itself is one of the oldest amusement parks in Atlantic City and forms the perfect backdrop for the beginning of your aerial adventure.
Shoreline Tour | Steel Pier Helicopter
In terms of Steel Pier rides, the Shoreline tour is one of the most popular. This Atlantic City helicopter ride will fly you over the famous AC Boardwalk. Passengers will be presented stunning views over the many glamorous casinos and breath-taking beaches along the Atlantic shoreline. From the renowned Hard Rock Casino to Tropicana, this tour highlights all the high-class city attractions.
Depending on what time you choose to book your flight, you will be able to watch the setting sun illuminate Atlantic City in spectacular shades of orange and gold. Booking for later in the afternoon will allow views of the flamboyant casino lights flickering in the nighttime hours. Regardless of what time you choose to fly, the fantastic sights from the seat of a helicopter will not disappoint.
The Shoreline helicopter tour asks for a minimum of two passengers per flight and a maximum of three. This Steel Pier helicopter ride price is $64.22 per person. As a popular recommendation with good reviews, this Atlantic City helicopter ride is the perfect addition to your travels.
City Tour | Steel Pier Helicopter
Starting at the Atlantic City piers, this helicopter ride takes you gliding over the central heart of Atlantic City itself. With all the wonderful sights of the Shoreline tour as well as a number of additional attractions, this helicopter ride is an indulgent adventure.
The extended City Tour offers passengers magnificent views of Atlantic City attractions, including the Golden Nugget, the bustling Tanger Outlets shopping center as well as the Absecon Lighthouse.
After sweeping over the city buildings, this helicopter ride heads towards the Marina district and down the Marina between Brigantine and Atlantic City. With so much to take in, this tour is ideal for those interested in the architecture and the sheer vastness of this resort city.
This Atlantic City helicopter tour price is $128.44 per person. Keep in mind this ride is also a minimum of two passengers and a maximum of three. Enjoy a birds-eye view of some of the best views Atlantic City has to offer with this grandiose tour.
Build Your Own Tour | Steel Pier Helicopter
Steel Pier Helicopters also has the useful option of customizing your own personal helicopter tour over the Atlantic City Area and South New Jersey. This accommodating option will allow you to hand-pick impeccable locations for photography and sightseeing from up in the air.
The price of this tour is subject to change depending on the time and locations specified. This is an ideal choice is you have specific locations in mind.
Helicopter Rides to Atlantic City | From NYC
Catching a helicopter to Atlantic City from the city of New York has never been easier. With amazing views along the way, an NYC to Atlantic City helicopter is a time-saving, cost-efficient method of travel. Whether you are a resident of the Big Apple looking for a little getaway trip or an adventurous tourist, a helicopter ride may be perfect for you.
Wings Air Helicopters | Atlantic City Helicopter Charter
Tourists and US residents alike may enjoy riding a helicopter from NY to Atlantic City. Wings Air Helicopters offers a useful alternative to the 3hr drive from New York to Atlantic City.
A Wings Air charter helicopter promises to get you to Atlantic City in less than an hour. Passengers can be dropped off at either the Atlantic City International Airport or land at the Steel Piers and begin the vacationing immediately. This helicopter company will happily help you to plan your holidays. Be it concert tickets, meet-and-greets, dinners and hotels, this charter company will help you arrange it all.
After enjoying a day of adventure and excitement, your helicopter will be waiting to escort you back to Manhattan with a complimentary short skyline tour before landing.
Wings Air offers helicopters with space for 2-3 passengers and larger choppers for 4-5 passengers. Your Atlantic City helicopter ride price may vary depending on your selected time and date. Flights last approximately 40-50 minutes each way and offer views of both NYC and Atlantic City.
Atlantic City Helicopter Tour | A Parting Sentiment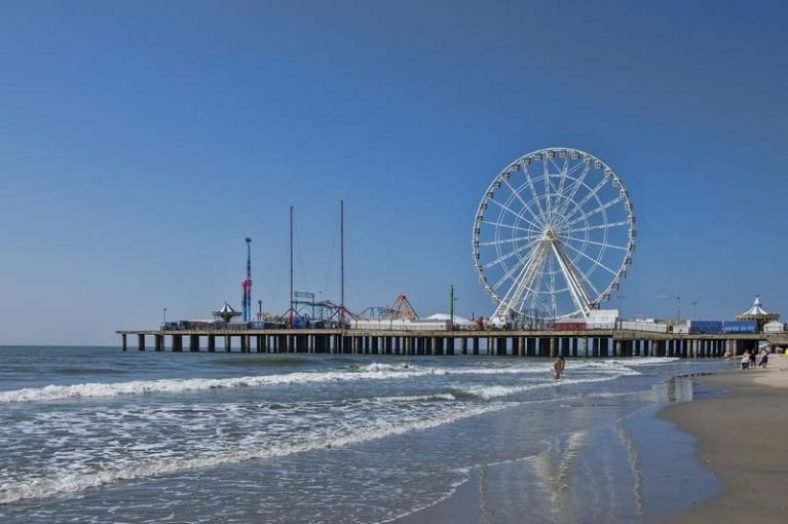 Atlantic City is a jewel in New Jersey. Bursting to the brim with magnificent attractions, an Atlantic City helicopter ride is an unmissable experience.
Should you find yourself hungry for more views of the bustling cities of the USA, perhaps you'd like to check out helicopter rides in Philadelphia next?
But for now, dream of the Atlantic City views that await you, pack your bags, and prepare for takeoff!
12 reviews for
7 Best Atlantic City Helicopter Rides in 2023 | Steel Pier Tours & Prices
7 Best Atlantic City Helicopter Rides in 2023 | Steel Pier Tours & Prices