Niagara Falls Helicopter Tour Price | Helicopter Ride Tickets
Last updated on October 2, 2023 12:02 am
Add to wishlist
Added to wishlist
Removed from wishlist
0
Add to compare
Niagara Falls is one of the most famous waterfalls in the world. Due to it's staggering height and volume, this waterfall has become a geological treasure and is often referred to as the eighth wonder of the world.
Straddling the border between New York and Ontario, Niagara Falls is a popular tourist attraction, and has been for over two hundred years.
Composed of three separate falls and rushing fountains pouring into the Niagara Gorge below, this is a spectacle worth exploring from the air. Prepare to take to the skies from the city of New York on a tour of the Niagara Falls. It's sure to take your breath away!
In this article, we have listed a few of the best Niagara helicopter rides to help you plan the perfect trip.
Best Niagara Falls Helicopter Tour Prices 2023
Best Niagara Falls Helicopter Rides in the USA
Most of the tallest famous waterfalls have very little water flowing over them. But the grandiose magnitude of water flowing over Niagara Falls makes them an impressive feat of nature.
Rainbow Air, Helicopters Limited and National Helicopters Inc. all offer the finest helicopter fleets for soaring over the imposing waters of Niagara Falls. We've laid out each of these options below.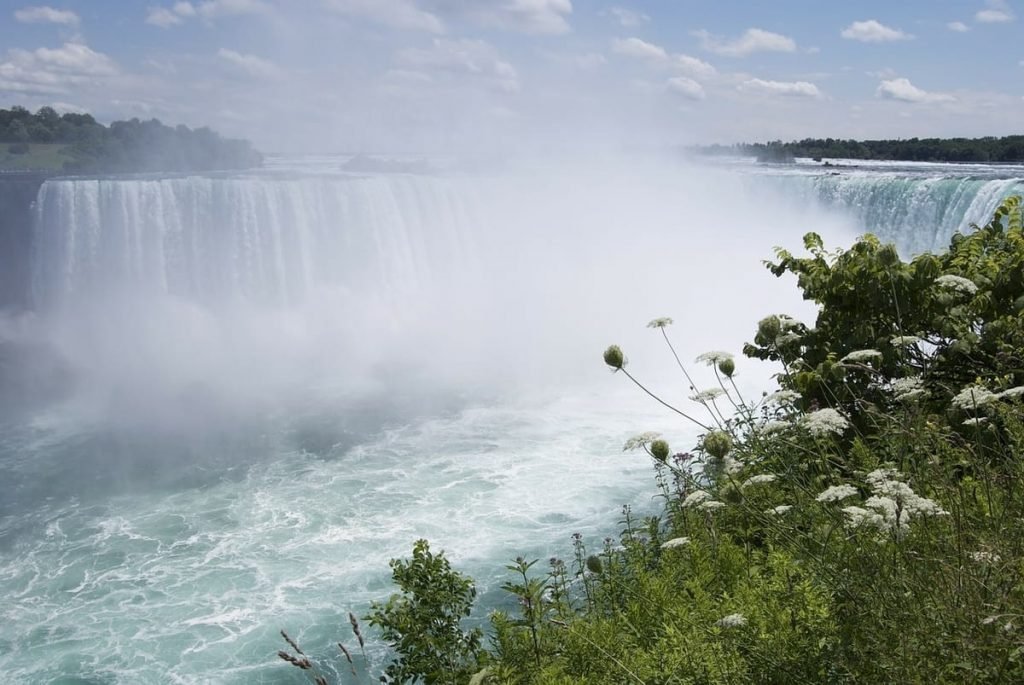 Rainbow Air Inc Helicopter Tours
Based in New York, Rainbow Air Inc offers helicopters with incredibly quiet engine turbines to provide you with a highly professional and satisfying tour of Niagara Falls in all its splendor.
Niagara Falls Helicopter Tour
This helicopter tour kicks off from the private NY helideck on 454 Mainstreet.
Offering an experience like no other, Rainbow Air helicopters promise to take you to the lowest and closest points of both the Niagara and Horseshoe falls. From the window of your helicopter prepare to gaze down at the Niagara River and follow the swift descent towards the thundering roar of the waterfalls.
This tour also includes a trip over the Rainbow Bridge as well as Goat Island, Cave of the Winds and a myriad of other novel tourist attractions. All the while, you will never lose sight of the cascading Niagara River.
Should you decide that all of this isn't quite enough, Rainbow Air offers an extended tour at a reasonable cost. This extended flight will have you flying north towards the churning rapids of the Lower Niagara River.
Pushing further downstream, you will be able to see the natural whirlpool formation as well as the Niagara River's Hydro-electro power plants – two of the biggest in the world!
Pricing
Due to uncontrollable weather conditions, Rainbow Air asks for personal walk-in ticket bookings only.
After purchasing a ticket you will be assigned a flight time for the day. This spontaneous adventure is offered at around USD $135 per person. Additionally, veterans and first responders are offered a $10 discount. Each tour starts at 9am and ends one hour before sunset.
Niagara Helicopters Limited
Niagara Helicopters Limited has been making waves in the aerial flights industry for over fifty years. With a trusted and reliable helicopter fleet, the company promises comfort, safety and marvelous views.
Classic Niagara Falls Tour
This tour begins downstream from the Victoria Avenue launch pad.
Starting at the Whirlpool and snaking upstream, you'll pass over the Spanish aero cable car that crosses over the gorge. Pass by the Skylon tower and the luscious green grass of Victoria Park before following along the curve of the Horseshoe Falls.
Should the weather oblige, you may catch a glimpse of the rainbows that shimmer in the mist churned up by the rushing water.
Pricing
All Niagara Falls Limited flights depart at 9am and uphold a no-fly, no-pay policy. A classic Niagara Falls flight varies between USD $126 and $200.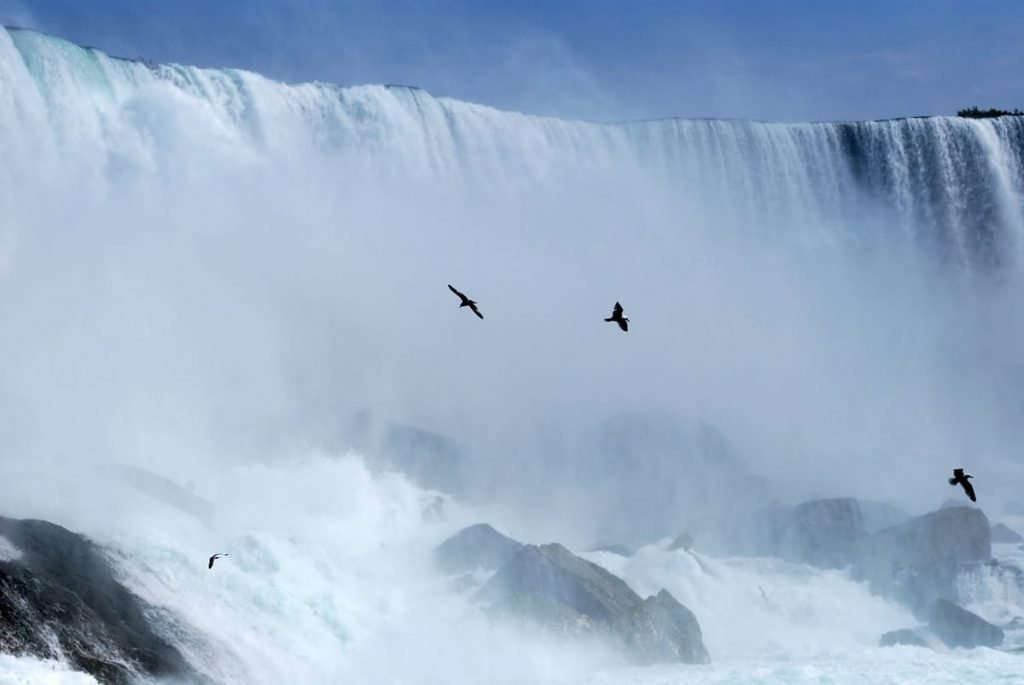 National Helicopters Inc.
National Helicopters inc. offers an array of helicopter tour packages to accommodate a variety of expectations. With noise cancelling headsets on hand as well as air conditioning, the company is perfect for planning the luxurious air tour of your dreams.
Private Romantic Helicopter Tour
Take this oh-so enticing twenty-minute flight which will see you and your partner swooping over the shores of Lake Ontario and the wine-producing region of Niagara Falls.
Toast your complimentary glasses of sparkling wine as you peek down at the Whirlpool rapids and the Lady of the Mist boat tours gliding about below.
This is a tour perfect for a honeymoon getaway, or perhaps an indulgent proposal.
Honeymoon and Winery Packages
Along with their renowned Sunset flights, National Helicopters inc. also offers intimate, twenty-minute tours specifically for couples who wish to enjoy their own private aircraft.
For the wine-lovers out there, perhaps the Winery Package Tour would best suit your interests.
Begin your tour over the Niagara Falls themselves and land at a vineyard of your choice. Experience a Wine Tour of one of the many award-winning vineyards of Niagara Falls, partake in wine-tasting or treat yourself to a lavish dinner before jetting back to homebase.
The Wedding Package
For the young couple who refuse to grow up, this flight acts as an aerial chapel complete with a minister for the ceremony, a commemorative marriage certificate and a bottle of champagne. State your I Do's as you soar over the wild waters of the Niagara Falls. And rest assured knowing that your possible future children will boast to their peers about this story for years to come.
Pricing
Depending on the tour you choose, Helicopter Inc offers flights at around USD $249 per person.
Some Final Thoughts on Helicopter Rides over Niagara Falls
Lining the border between Canada and the United States, Niagara Falls continues to draw tourists by the thousands. Each of them searching for the humbling experience of witnessing nature at its most magnificent.
A common understanding among tourists is that the pictures alone, no matter how gorgeous, pale in comparison to the real deal.
With the skyline of Toronto standing solemnly to the north and the shores of Lake Erie peaking over the south, the Niagara Falls is an experience impossible to describe in its entirety.
You can take our word for it, or you can book your ticket and go see for yourself.
18 reviews for
Niagara Falls Helicopter Tour Price | Helicopter Ride Tickets

Niagara Falls Helicopter Tour Price | Helicopter Ride Tickets