Rottnest Ferry Cost | Cheapest Way to Rottnest Island 2023
Last updated on September 23, 2023 2:13 am
Add to wishlist
Added to wishlist
Removed from wishlist
0
Add to compare
Rottnest Island, or Rotto as it's known locally, is a popular Australian destination that attracts numerous visitors annually. It features fantastic beaches, vast marine life as well as unique mainland wildlife that includes quokkas. These adorable animals are responsible for the island's name due to being mistaken for giant rats.
The remote island located in Western Australia can only be accessed through a ferry, helicopter, or seaplane. Out of all three options, ferries are easily the cheapest way to get to Rottnest Island. In this article, you'll find the best ferries to the isle as well as various Rottnest Island tours and ferry prices.
Highlights:
Seeing the unique quokkas
Affordable ferry prices
Various water activities to participate in on the island
Know before you book:
You'll be made to pay a $150 AUD ($100) fine if you touch or feed the quokkas
The island is a car free zone, so you'll explore it on foot or through a hirable bicycle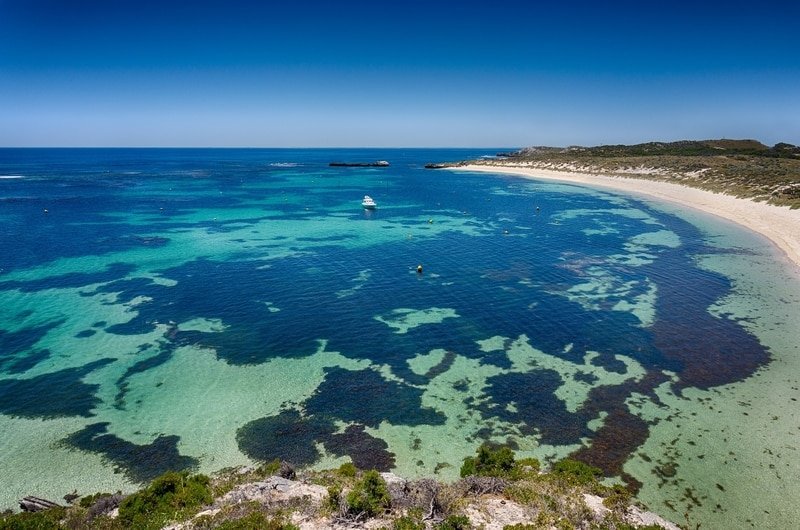 A visit to Rottnest Island offers a lot for every type of visitor. Activities range from leisurely guided walking tours to thrilling water activities, which an island visit wouldn't be complete without. This includes snorkeling and diving, surfing, kayaking, and fishing, among others.
You can also join in on a wreck dive, seeing over 13 shipwrecks that have informational panels detailing their history. The same plaques can be found onshore if you don't want to do a deep dive underwater.
Rottnest ferries also have onboard activities and they pass magnificent scenery, ensuring you won't be bored on your way to the island. This includes music, tantalizing food, and drinks, as well as the crew teaching you something about Rottnest Island and its surroundings.
Rottnest Island Ferry Cost in 2023/2023
The cost of a tour including a Rottnest ferry cost ranges from AUD 76 ($60) to AUD 159 ($123), depending on which ferry/tour you decide to join. The more expensive tours and ferry rides provide you with more than the cheapest way to Rottnest Island. This includes bike and snorkel hire and a delicious lunch.
Compare prices across the ferry ride providers below:
Times
The tours are available nearly all year-round, but their times are often dependent on the individual ferry or tour provider. Here's a summary of the times the ferry rides are available:
Daily: Some tours are available from as early as 7:30 am and as late as 3:30 pm.
Note: It's best to confirm each tour's active hours at booking to avoid being stuck overnight at Rottnest Island.
Best Time to Go
Rottnest Island is excellent for a visit from January to January. However, there's a "best" time to go if you're looking to maximize fun on specific activities or avoid crowds. The spring and summer months between October and March are best for cooling off with a swim. The autumn season between April and May is excellent for avoiding crowds, and the weather is usually temperate.
Rottnest Ferry Tours & Packages
Ferries to Rottnest Island commence in Perth City or Fremantle. They usually last between 25 and 90 minutes, depending on your point of departure. Read all about the best ones below.
Rottnest Island Round-Trip Ferry from Perth or Fremantle
This tour doesn't have much in terms of complimentary activities; this means it's one of the cheapest ferries to Rottnest Island. This makes it perfect for anyone just looking to make their way to Rotto at an affordable cost.
It's a full-day tour that departs from either Perth or Fremantle, and it can accommodate up to 400 travelers. If you started in Perth, you'd pass through Swan River, where you'll get the chance to see the beautiful Black Swan. You'll then land in Fremantle and hop on the Rottnest Express on your way to Rotto.
Once at the island, you're free to enjoy all that it has to offer in your own time. You can explore the island on foot or via a rentable bike; a visit to the Rottnest Island Visitor Centre will provide valuable information about the island. Your exploration is sure to be fun-filled, with numerous activities on offer.
Among those activities is fun at the island's many Blue Flag beaches with swimming, snorkeling, surfing, and other popular water sports available to you. Or look for the island's wildlife, including the adorable quokka. You then get a ferry transfer back to your initial departure point.
What we liked: The high-speed ferry ride includes scenic views along the way to Rottnest Island.
---
INCLUDES:
Rottnest Island Authority fee
Ferry to Rotto
EXCLUDES:
Hotel pick-up and drop-off
Entrance fees and any gear or equipment hire fees
Food and drinks
The tour is wheelchair and stroller accessible, making it great for all travelers.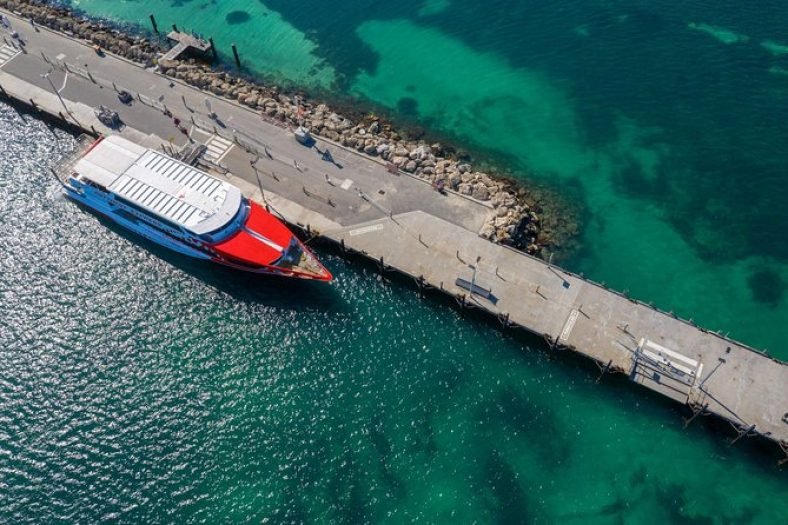 Check Price & Book
---
Rottnest Island Ferry & Bus Tour from Perth or Fremantle
This tour is perfect for anyone interested in learning about the history of Rotto in addition to exploring the island.
This is a full-day trip to Rottnest Island that includes a 90-minute adventure on a tour bus. The departure point is either Perth or Fremantle. From Perth, you'll enjoy a scenic 60-minute cruise that passes through Fremantle before heading to Rotto. During the ride, you're provided with live commentary full of interesting facts about the island.
From Fremantle, the ferry only takes 25 minutes to reach Rottnest Island and unfortunately doesn't include live commentary. The tour consists of the admission fee to Rotto, and if you're a massive foodie, you can also add a buffet lunch to the package at checkout.
Upon arrival, you'll jump on the air-conditioned bus where you'll be to see all the beautiful sites and natural landscapes. The local tour guide has a wealth of knowledge to share about the island's rich history. When it ends, you can start exploring the island on foot or a rentable bike at your leisure.
You can now sunbathe or swim at one of Rottnest Island's many beautiful beaches before returning to Perth or Fremantle. Or look for wildlife such as the native quokka if you prefer.
What we liked: Learning about Rotto's past from knowledgeable guides from the comfort of a bus.
---
INCLUDES:
Rottnest Island admission fee
A buffet lunch, if the option is selected at checkout
Pick-up from select Perth and Fremantle hotels when booked 24 hours in advance and confirmed with the local tour provider
EXCLUDES:
Meals and drinks, if buffet lunch option isn't selected
The bus tour is open for everyone, including people on wheelchairs – although you'll have to inform the tour organizer beforehand.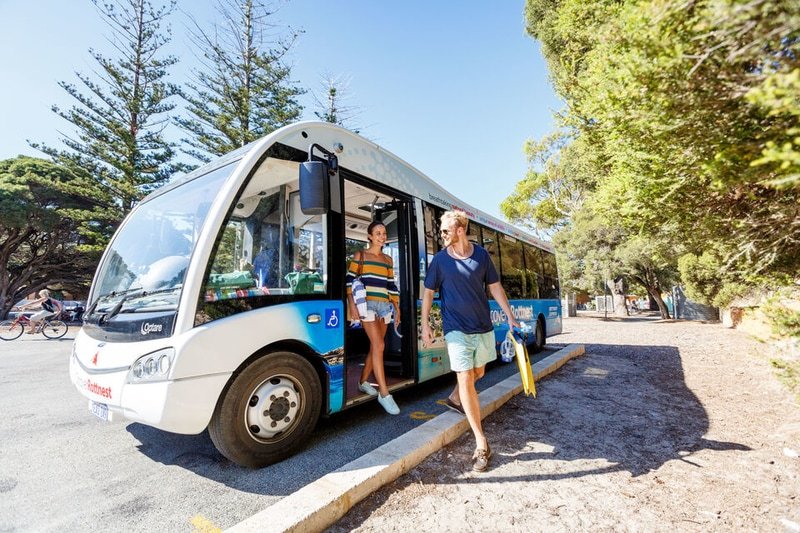 Check Price & Book
---
Rottnest Island Return Ferry Ticket from Perth or Fremantle with Optional Bike & Snorkel Gear Hire
This tour is perfect for families who want a comprehensive tour to Rottnest Island with some complimentary services.
The tour also gives you the option of departing from Perth or Fremantle, as well as complimentary hotel pick-up. It allows you to package your Rottnest ferry tickets with bike and snorkel gear hire. If included in the package, you'll find your gear waiting for you to start your Rotto adventure, making it a seamless experience.
The easy terrain and long trails make exploring the island on a bike an amazing experience, which allows you to look for Rotto's rich biodiversity. With over 60 beaches and 20 bays on offer, you can go snorkeling looking for various marine life and a shipwreck or two. Other activities include surfing, paddleboarding, a train ride in the island's tunnels, or visiting sites like the island museum or Pilot Boathouse.
On the ferry back to your departure point, you may get treated to a musical performance by a talented artist.
What we liked: It's a tour that provides snorkeling gear free of hire, which is important for exploring the island's deep waters.
---
INCLUDES:
Snorkeling gear and bike hire
A high-speed ferry to Rottnest Island
EXCLUDES:
Food and drinks
Fees for other attractions or equipment hire (e.g. surfboards)
The ferry is wheelchair accessible as well as being suited for the entire family. Children 3 years and younger travel on the ferry free of charge.
Check Price & Book
---
Rottnest Island Tour from Perth or Fremantle including Adventure Speed Boat Ride
This tour is suitable for anyone who wants to see Rottnest Island's marine life above the water.
This full-day tour takes you from Perth or Fremantle to Rottnest Island, where adventure awaits. A Perth departure point will take you through Swan River as well as Fremantle to pick up other travelers. The main attraction on this particular tour is the prospect of exploring Rotto's ocean atop a thrilling speed boat.
On the ride, you'll have the chance to see various marine life, including seals, dolphins, and sea birds. You're also taken to the island's Cathedral Rocks, where you'll often find colonies of New Zealand Fur Seals. If you chose to include it as part of the tour, you're treated to a mouthwatering lunch that will give you plenty of energy for the day of exploring.
After the sea adventure, you're free to explore the island as much as you want. You can choose to sunbathe on the beach, go in search of mainland wildlife or learn about Rotto's history from the locals and its historical attractions. We recommend visiting the Wadjemup Lighthouse, you can climb to the top and experience panoramic views of the island.
Note: This is a seasonal tour that operates between September to April.
What we liked: Whizzing through the waters is incredibly fun, seeing various marine life is a welcome incentive.
---
INCLUDES:
A local guide
Rottnest Island Authority fee
All taxes, fees and handling charges
EXCLUDES:
Hire of gear or equipment for various island activities, including bike hire
Hotel pick-up and drop-off
The speed boat is not suitable for kids 4 years or younger, pregnant women, passengers confined to a wheelchair or those with pre-existing back and heart problems.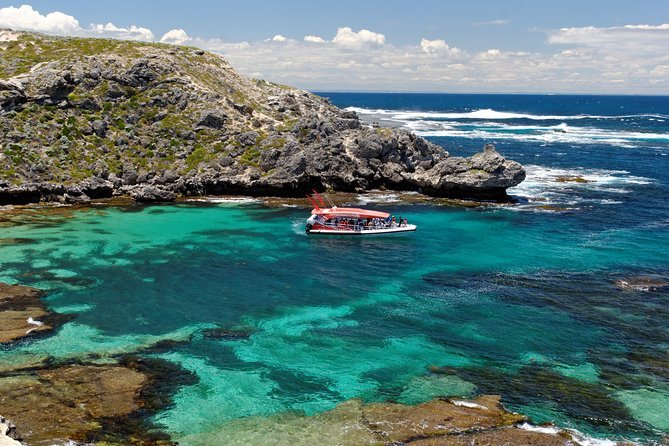 Check Price & Book
---
These tours are some of the best on offer when visiting Rottnest Island; they're mostly suitable for families and provide a value-added experience in addition to the ferry transfer.
PROS
Most are wheelchair accessible
Great for families as kids are mostly welcome
Several pick-up points
CONS
Most do not offer bike or gear hire
Most of them don't provide food
9 reviews for
Rottnest Ferry Cost | Cheapest Way to Rottnest Island 2023
Rottnest Ferry Cost | Cheapest Way to Rottnest Island 2023