Paris Dinner Cruises 2023 | Seine River Rides & Prices
Last updated on October 5, 2023 1:45 am
Add to wishlist
Added to wishlist
Removed from wishlist
0
Add to compare
There is nothing quite as romantic as a dinner cruise on the Seine in the iconic city of love itself. Candle-lit tables, champagne, and the swishing waters of the river make a Paris dinner cruise an unmissable experience.
The city lights make for a marvelous attraction when viewed from a French riverboat. Enjoy gourmet dinners and indulge in an atmospheric Parisian experience like no other. Below you will find some of the best dinner cruises in Paris to help you plan the ideal trip.
Highlights:
Dozens of gorgeous Paris monuments to be seen along the trip
Luxury cruise liners and on-deck dining rooms
Gourmet Parisian Dinner experience
Know before you book:
Dress policy is smart-casual – No open or sports shoes
Cruises are in high demand during peak season so it's best to book ahead
Not recommended for children under 14 years old
The Seine River has been a favorite muse for several impressionism artists throughout the decades. What better way to experience this phenomenal waterway than on a Seine River dinner cruise? Take in the sights along this legendary river and fall in love with the view just like the great painters did.
A Paris dinner cruise will take you past the iconic attractions of the French Capital. Gaze at the Eiffel Tower, Louvre Museum, and more from the deck of a luxury cruise liner. Enjoy decadent banquets as you glide along the water and raise a glass to the whimsical experience
Dinner Cruise Prices 2021
These cruise prices start at about €90 (±$110) and go up to around €3,122 (±$3,720) depending on the number of passengers, length of time, and tour inclusions.
Compare prices across the ticket providers below:
Ensure a memorable night out in Paris with a gourmet dinner cruise along the Seine River. Float past the city's famed monuments, such as the Eiffel Tower, Louvre Museum, and Ile ...
Available

This Seine River dinner or lunch cruise is a relaxing way to view Paris landmarks such as the Eiffel Tower and the Louvre. Admire the waterfront sights and pass under bridges such ...
Available
On this Paris dinner cruise, glide along the Seine aboard an intimate La Marina de Paris boat, and enjoy a 3-course meal while admiring riverfront sights like the Eiffel Tower, ...
Available
Take in some of Paris
Available
Indulge your inner romantic on an atmospheric evening cruise down the Seine and see the City of Lights at its most magical. Dine on a decadent 4-course dinner, accompanied by live ...
Available
Sit down to a 3-course Gallic dinner and pass Paris
Available
Paris is one of the most romantic cities in the world and an evening cruise down the illuminated Seine is the perfect way to ramp up the romance. This cruise includes a delicious ...
Available
Let yourself be guided during a dinner aboard the first 100% electric boat on the Seine. Your table will allow you to enjoy the most beautiful view of the monuments of Paris. A ...
Available
PARIS DINNER CRUISE TIMES
Paris dinner cruises are offered all year round every afternoon. Most cruises start at around 6 pm and continue to run every few hours until 11 pm. Enjoy Paris at night in style on a Seine River dinner cruise.
Monday – Sunday: 6pm – 11pm
BEST TIME TO GO ON DINNER CRUISES ON THE SEINE
The best time to embark on a Paris dinner cruise is around the summer months of June to August. While this is usually the busier and more expensive season of Paris tourism, there is less chance of rain.
The summer months offer warm, clear nights for gentle cruising along the Seine and perfect weather for sightseeing.
Things to See on a Dinner Cruise in Paris:
The Eiffel Tower. Impressive by day and even more splendid when lit up at night, this is the most famous of all Paris attractions and a beauty to see from the River Seine.
Ile de la Cité. This is one of two natural islands on the River Seine. Packed with monuments and interesting architecture, this spot makes for some great views when passing by on a riverboat.
Grand Palais and Petit Palais are two grandiose palaces with glass roofs and gorgeous architectural designs. Passing by these monuments on a Paris dinner cruise will have anyone feeling like true royalty.
The Louvre is a medieval fort-turned-art museum. The largest art museum in the world, to be exact. Stunning both inside and out, catch a glimpse of the home of the world-famous Mona Lisa as you cruise by.
The Musée d'Orsay sits opposite the Louvre on the other side of the Seine River. This building is identifiable by the two large clock faces in the facade of the great museum building that looms over the river. The Musée d'Orsay is home to the finest collection of impressionism paintings and a wonder to look at from the windows of a riverboat.
Saint Germain des Prés Quarter is a Paris district full of the most fascinating cafes and bookstores. Spot this novel setup as you glide past on your cruise.
Paris Dinner Cruise | Options
All of these Paris dinner cruises offer similar itineraries with slight differences catering to different preferences. With numerous scenic routes along the Seine river, passengers will pass a number of spectacular attractions.
Below are some of the best dinner cruises on the Seine. With so many enticing options, there is bound to be a trip that catches your eye.
 BATEAUX PARISIENS SEINE RIVER | GOURMET DINNER & SIGHTSEEING CRUISE
This Paris dinner cruise takes passengers on a night out aboard a luxurious Bateaux Parisiens riverboat. Get cozy in the onboard dining room and relish in a grandiose 3-course meal as well as complimentary wine.
The Bateaux Paris boat dinner departs from Port de la Bourdonnais and lasts approximately 2,5 hours.
What we liked: Great for a short, enjoyable get-together over dinner.
---
INCLUDES:
Complimentary champagne whilst waiting to board for trips after 8pm
Cruise along the Seine
3-course dinner
EXCLUDES:
Gratuities
Pick-up and drop-offs from hotels
Guided Narration
Take-in sights of the most prominent Paris attractions lit up in the usual fashion of Paris nightlife. Furthermore, this Seine dinner cruise includes champagne and vibrant live music on certain 8:30 pm departures. This is possibly the best dinner cruise in Paris for charming date nights and family events.
Check Price & Book

---
PARIS SEINE RIVER GOURMET DINNER CRUISE | CHAMPAGNE EXCLUSIVE
This option is the best Seine dinner cruise for romantic engagements. Pop the question or celebrate a special bond on this luscious boat trip. The romance packages include rose petals, premium window seating, and souvenir photos to commemorate the occasion.
What we liked: Great for romantic gestures and intimate events.
---
INCLUDES:
Additional Romantic Package
Dining-room inside glass dome for ample sightseeing
Alcoholic Beverages
EXCLUDES:
Gratuities
Pick-up and drop-offs from hotels
Guided Narration
Enjoy a 3-course gourmet dinner aboard a La Marina de Paris cruiseliner. These boats hold glass, encasing domes with large panoramic windows for ample sightseeing benefits.
This Paris dinner cruise also includes a complimentary half bottle of champagne or French wine per person. Immerse yourself in the occasion with live music and a breathtaking Eiffel Tower light show.
Check Price & Book

---
BATEAUX MOUCHES SEINE RIVER | PARIS BY NIGHT DINNER CRUISE & LIVE MUSIC
This dinner cruise in Paris is a jovial, lively experience. Take this sublime evening cruise along the Seine and watch the sun go down over the Paris skyline. This cruise includes a 4-course dinner of some of the best Parisian cuisine.
What we liked: Great for a more casual dining experience.
---
INCLUDES:
Live Music
3-hour cruise along the Seine
Alcoholic Beverages
EXCLUDES:
Pick-up and drop-offs from hotels
Guided Narration
Gratuities
Fill your bellies and your hearts on this vivacious Paris Seine river cruise. Pass by beloved, illuminated landmarks and enjoy the live music on board a Bateaux Parisiens riverboat.
Check Price & Book

---
CAPITAINE FRACASSE BOAT | 3-COURSE DINNER CRUISE
This versatile tour has several different departure times to choose from. Look through the boat's panoramic windows and see magnificent sights along the waterfront such as the Musée d'Orsay, Ile de la Cité, and Pont Alexandre III. This Paris dinner cruise includes a 3-course Gallic dinner inside the boat's stylish dining room.
What we liked: Great for flexible departure times.
---
INCLUDES:
3-Course dinner
2-hour cruise along the Seine
Alcoholic beverages
EXCLUDES:
Gratuities
Guided Narration
Pick-up and drop-offs from hotels
Upgrading this cruise option will score you alcoholic beverages and access to the boat's top deck for open-air viewing of the Seine waterfront. The accommodating options and consideration make this tour one of the best dinner cruises Paris has to offer.
Check Price & Book

---
PARIS SEINE RIVER | ROMANTIC DINNER CRUISE & GLASS OF CHAMPAGNE
Another stunningly romantic river cruise, this option includes a night trip along the Seine with all the dazzling lights of Paris attractions along the way. Take a night out with your significant other and book a rose petal-covered table at the front of the boat. The dining room on this boat is encapsulated within wide glass windows.
What we liked: Great for celebrating an engagement.
---
INCLUDES:
2-hour cruise along the Seine
3-Course dinner
Alcoholic beverages
EXCLUDES:
Gratuities
Guided Narration
Pick-up and drop-offs from hotels
Watch the lights of Paris dance along the water and enjoy a 3-course fine dining experience. This tour also includes champagne as well as a souvenir portrait taken by a professional photographer to take home with you.
Check Price & Book

---
SEINE RIVER DINNER CRUISE | EIFFEL TOWER & MOULIN ROUGE SHOW
This whopping tour encompasses one incredible night of fun and entertainment. Combining fine dining and a vivacious cancan show, this Paris dinner cruise is a must for any restless tourist looking to get the most out of their trip.
After some feasting on mouth-watering Paris cuisine, guests will be escorted to a live show at the famous Moulin Rouge. Here you can sip champagne and enjoy a traditional Parisian cabaret show at your leisure.
What we liked: Great for if you're looking for a longer, guided trip.
---
INCLUDES:
Luxury air-conditioned transport
Multilingual hostess to assist you
Live Show at Moulin Rouge
EXCLUDES:
Gratuities
No children allowed
Hotel Pick-up & Drop-off
Guests on this tour have the option of enjoying an indulgent dinner either on the terrace of the Eiffel Tower itself or on a gorgeous river cruise along the Seine (the more popular option).
Check Price & Book

---
PARIS AT THE FIRST LODGES | DUCASSE SUR SEINE DINNER CRUISE
Climb aboard Paris' very first fully electric boat on this unique dinner cruise. Indulge in the intrinsically Parisian experience of dinner along the Seine.
This tour includes a 4-course or 5-course dinner of your choosing. As well as guaranteed window seating to gaze at the night-time sights. With no music as well as dim, ambient lighting, this Paris river cruise feels like a play.
What we liked: Great for if you want a quieter theatrical experience.
---
INCLUDES:
2-Hour cruise along the Seine
Access to Paris' first electric cruise liner
4- or 5-course dinner
EXCLUDES:
Live music
Gratuities
Guided narration
This is a quiet, intimate tour with the most gorgeous Parisian cuisine to boot. Bless your taste buds while dining on high-class meals and watch the lights and sights of the river unfold in front of you like the theatrical opening of a curtain.
Check Price & Book

---
BATEAUX MOUCHES NEW YEAR'S EVE | DINNER CRUISE & PARTY
Celebrate New Year's Eve the right way with this Paris dinner cruise. Traverse the River Seine and partake in a 4-course dining experience as well as amuse-bouches and complimentary champagne before dinner.
What we liked: Great for a longer, well-rounded celebration.
---
INCLUDES:
Beverages
Complimentary champagne
4-course dinner
EXCLUDES:
Souvenir photos (available to purchase)
Children's meal options
Refunds if tour is missed
After dining and wine-drinking guests can enjoy live music and join in the festivities of welcoming in the New Year.
Check Price & Book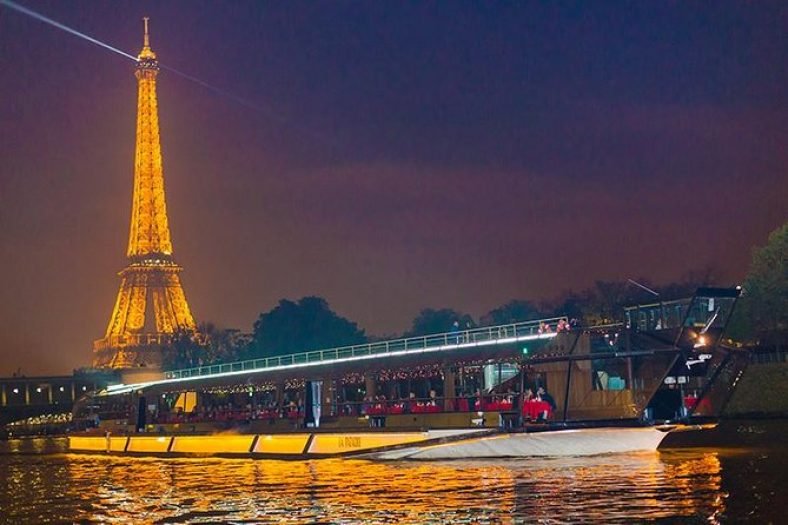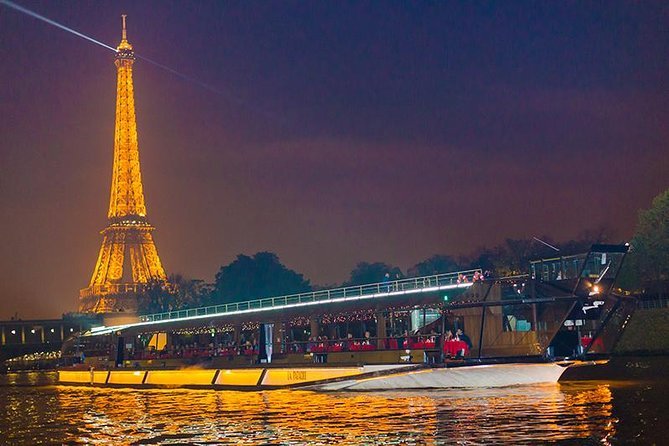 Paris Dinner Cruises | Conclusion
With so many options to choose from, you have hopefully decided on the perfect Paris, Seine River dinner cruise for you. Perhaps a special someone came to mind when pondering the romantic dinner cruises available? An adventure like this comes once in a lifetime so don't miss out on the opportunity to enjoy a dinner cruise in the City of Lights. Paris is calling and the quiet waters of the Seine await you.
PROS
Great way to view Paris tourist attractions
Gourmet Dinners included
Many different options
CONS
Not very clear differentiation
No guided narration as you pass the sights
Some tours may be fully booked
Specification:
Paris Dinner Cruises 2023 | Seine River Rides & Prices
| | |
| --- | --- |
| Accessible | Wheelchair accessible |
| Duration | 2 – 4 hours |
| Inclusions | Dinner and sightseeing along the Seine |
| Exclusions | Guided narration, Optional added activity costs |
| Meals | Dinner and beverages are included |
| Pick-up | Not Provided |
| Suited for | Couples and families with older children |
22 reviews for
Paris Dinner Cruises 2023 | Seine River Rides & Prices
Paris Dinner Cruises 2023 | Seine River Rides & Prices