Swim with Manatees | Orlando Crystal River Tours & Tickets 2022
Last updated on February 6, 2023 2:56 pm
Add to wishlist
Added to wishlist
Removed from wishlist
0
Add to compare
Manatees are fascinating creatures—these swimming mammals are much larger than humans, and yet they're so gentle and friendly. If you've always wanted to see one up close, a trip to swim with manatees in Orlando is sure to be the experience of a lifetime.
While there are lots of great Orlando day cruises you can take to cool off during the summer, nothing beats a snorkeling session among manatees. And the Crystal River that runs through Orlando is a migration hotspot for manatees.
We'll take a look at some top tour options in Orlando, Florida, where you can enjoy a relaxing river cruise along with a manatee encounter.
Highlights:
Swim with manatees in Crystal River for a unique up-close experience
Learn about the gentle manatees from an expert guide
Spend a relaxed day on the water
Know before you book:
The colder months bring more manatees to Crystal River
You will need to pay extra for a wetsuit
Tours are not wheelchair accessible
Manatees, sometimes called 'sea cows', are large herbivorous aquatic mammals. There are three types of manatees: the West African, Amazonian, and West Indian manatee. All three species are listed as endangered, and many conservation programs are working to protect them.
In Orlando, Florida, you'll find the West Indian manatee species. Since they prefer warmer water temperatures, these manatees migrate from coastal waters to Florida's rivers during the cold months.
The Crystal River National Wildlife Refuge was established in this area to help protect these manatees. They help maintain the natural habitat, rehabilitate injured manatees, and rescue baby orphans.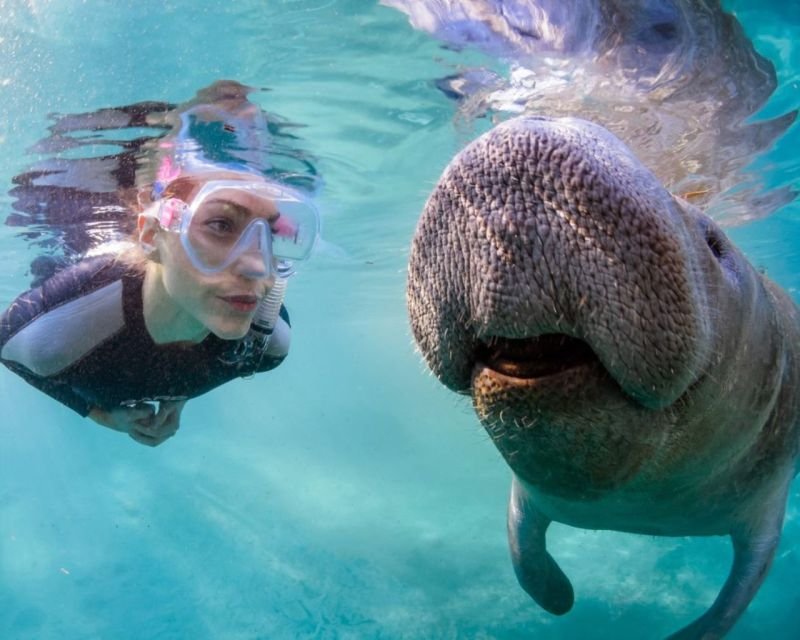 Going on a tour to see the manatees in Orlando's Crystal River is a wonderful way to learn about these peaceful animals. As you enjoy a fun time in the water, just remember that these are protected wild animals. While you are swimming in their habitat, be respectful and avoid making too much noise.
Manatees are generally friendly and curious. If some of them swim over to you, you are welcome to touch them. Your tour guide will give you more details about safety procedures and how you should act around these majestic wild animals.
To ensure that you are ready for your memorable manatee encounter, remember to pack the following items:
Your own swimwear
A change of clothes
Towels
Sunscreen
Cash to pay for a wetsuit and some souvenirs
Swimming with Manatees | Orlando Prices 2022
The cost of Orlando manatee tours starts at about $99 and can go up to $149. The price depends on whether or not extras like lunch are included and the type of boat used for the tour. Most tickets exclude the cost of hiring a wetsuit, which will be about $15 extra.
Compare prices across the ticket providers below: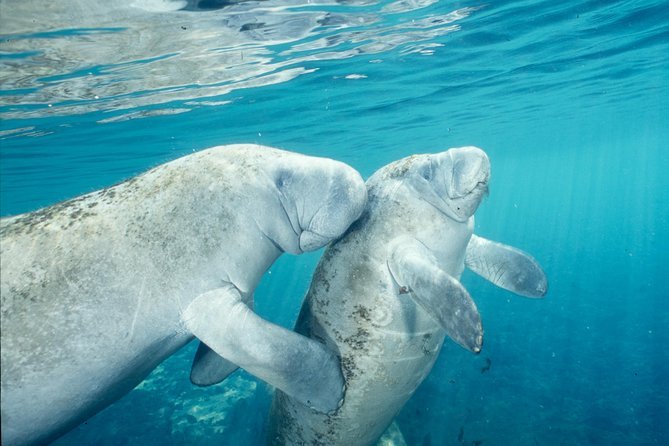 Crystal River Manatee Tour Times
Most manatee tours on Crystal River start in the morning and last into the early evening. The specific start and end times will depend on the tour you choose.
Tours are not available every day, so check the dates for the specific tour you are interested in. Most companies only provide tours two days a week, for example, Tuesdays and Saturdays.
Best Time to Swim with Manatees in Orlando, Florida
You can find manatees in Crystal River all year round, but the best time to go is between November and late March. The manatee population is usually at its peak from December to February. So if you're looking for warm places to visit in December, Florida's Crystal River is the ideal place to cool off.
The best time of day to swim with the manatees is in the morning. This is when these curious creatures are most active and playful.
Options for Swim with Manatee Tours
Crystal River manatee tours in Orlando give you the opportunity to enjoy a day on the water with these stunning aquatic mammals. The knowledgeable tour guides can tell you all you want to know about manatees. And swimming among these gentle giants is sure to be an unforgettable experience.
Take a look at some of the top manatee boat tours below.
Crystal River Boat Tour, Manatee Swim & Park Visit
This day-long manatee tour is ideal for animal lovers who want to spend a relaxed day among these gentle giants. The tour includes a guided boat ride, the opportunity to swim with manatees, and a visit to the Homosassa State Park.
Your manatee boat tour will start bright and early with pick-up from your Orlando hotel at 7 am. The experienced driver will take you to Crystal River to meet with the rest of your tour group.
Enjoy the narrated boat tour along the river and your first chance to spot some manatees. The guide and diving team are all very knowledgeable and passionate about what they do. Your boat captain will be sure to find a group of manatees, no matter the season.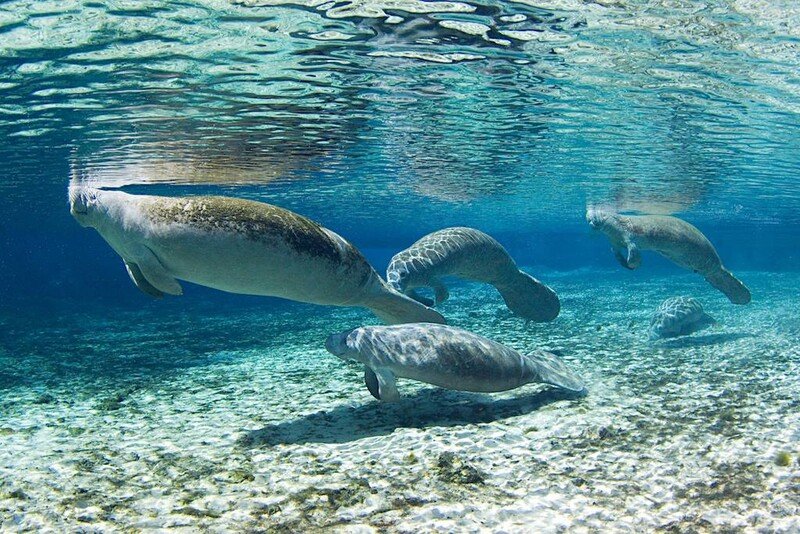 After a safety briefing and help getting into your snorkeling gear, you can enter the water for the real adventure to begin. You don't need any previous diving experience to take part in this once-in-a-lifetime activity. Relax and enjoy swimming with manatees in Crystal River—some curious ones might even come over for a belly rub!
After the cruise and swim, you'll head to Homosassa State Park. Take a relaxed walk around the park and see the great work this center does to rehabilitate injured animals. You'll spot animals like alligators, bears, panthers, and more manatees. The manatee feeding session is the perfect time to snap more photos of these amazing creatures.
What we liked: A long, relaxed day spent up close with manatees.
---
INCLUDES:
Tour guide
Orlando hotel pick-up and drop-off
Admission to Homosassa State Park
Snorkeling equipment
EXCLUDES:
Mandatory wetsuits (extra $15)
Lunch
Gratuities
Lunch is not included in this tour, but there will be time to sit down for a meal in Homosassa. The park cafe has some delicious food options. Or, you can pack your own lunch to eat at one of the picnic tables. The tour driver will take you back to your hotel at the end of the day.
Check Price & Book
---
Crystal River Manatee Swim & Airboat Ride
Enjoy a fun day on the water with this manatee tour in Orlando. You'll get the opportunity to swim with manatees in Crystal River, as well as take an exhilarating airboat ride on the Withlacoochee River.
This day-long tour starts at 8:30 am with a bus pick-up from your Orlando hotel. You'll get a small packed breakfast to munch on while your tour guide explains the day's program. The bus will take your tour group to Crystal River for the start of your cruise.
While manatees are more scarce during the warm months, your expert guide will do their best to find you a group of manatees. Swim or snorkel among these beautiful creatures, or stay on the boat to snap some gorgeous manatee pictures. The tour guide will also point out other wildlife that lives in this area.
This tour also includes a fun 30-minute airboat ride. Prepare to get wet as you enjoy a speedy and refreshing ride up the river. Sit right at the front of the boat to get sprayed the most and cool off in the humid summer weather.
What we liked: A fun day on the water and great manatee encounters.
---
INCLUDES:
Tour guide
Orlando hotel pick-up and drop-off
Airboat ride
Snorkeling equipment
EXCLUDES:
Mandatory wetsuits (extra $15)
Lunch
Gratuities
This tour doesn't include lunch, but you will have time to sit down for a meal at a local restaurant. At the end of the day's activities, you will be dropped off again via bus. The drop-off time will depend on your location, as there will be a group of around 15 people on the tour bus who need to be taken to their hotels.
Check Price & Book
---
Swim with manatees in Orlando's Crystal River for a memorable encounter with these stunning creatures. Tours offer guided boat rides of the area and a chance to spot other Florida wildlife.
PROS
Enjoy close encounters with the manatees
Learn from a knowledgeable guide on a guided tour
Cool off in the water of Crystal River
CONS
Tours are not wheelchair accessible
Have to pack or buy your own lunch
Wetsuits are mandatory and cost extra
Specification:
Swim with Manatees | Orlando Crystal River Tours & Tickets 2022
| | |
| --- | --- |
| Accessible | Not wheelchair accessible |
| Duration | Full day (8-12 hours) |
| Inclusions | Snorkeling equipment; Tour guide |
| Exclusions | Wetsuits |
| Meals | Some tours include breakfast; No tours include lunch |
| Pick-up | From certain Orlando hotels |
| Suited for | Families; Couples; Solo travelers; Nature lovers |
11 reviews for
Swim with Manatees | Orlando Crystal River Tours & Tickets 2022
Swim with Manatees | Orlando Crystal River Tours & Tickets 2022