Product
Specification
Deals
Robben Island is at the core of South Africa's rich history and culture. The tiny island located just off of the coast of Cape Town is home to a ...
| | |
| --- | --- |
| Accessible | Yes |
| Duration | 5 hours |
| Includes | Admission tickets, Hotel pick-up, Return ferry tickets |
| Excludes | Food and drinks, Gratuities, Hotel drop-off |
| Meals & Drinks | Not included |
| Pickup | Pick-up only |
| Suitable For | Everyone, History enthusiasts |
Things To Do In Cape Town Today
If you are heading to Cape Town, you can be sure you'll be in for a treat! It's hands-down one of the most beautiful coastal cities in the world. Offering visitors a combination of history, culture and natural beauty – all mixed together in and around the vibrant streets and magical lights of the Mother City.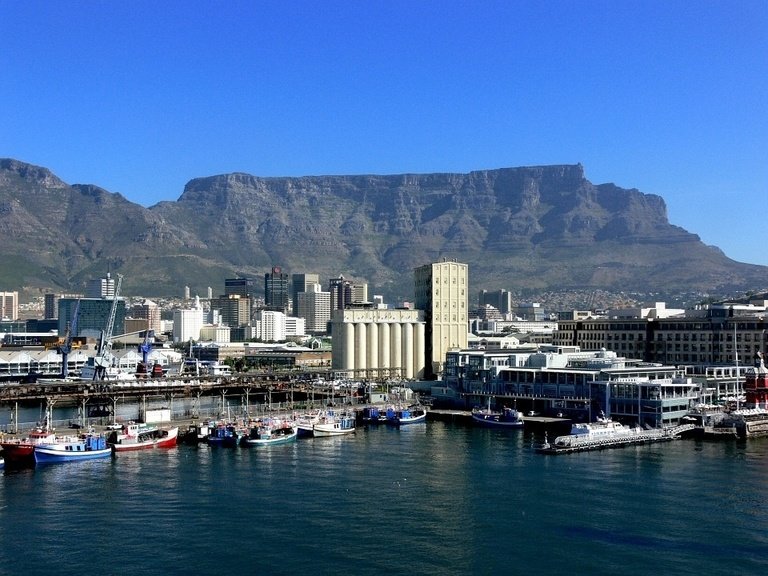 Although its biggest treasure is the majestic Table Mountain, Cape Town also has a vast variety of things to do and places to see – whatever your taste, preference or budget. So let's get to it, below are our top picks of what to do in Cape Town today!
Free Things to Do In Cape Town
They say the best things in life are free, and Cape Town is living proof of this. Here you can enjoy the beautiful scenery in and around the city – and it won't cost you a cent! Cape Town offers various scenic hiking trails, pristine beaches and tranquil forests to go for an afternoon stroll. Just to name a few:
Kasteel Poort offers a steep mountainous trial with spectacular views of Table Mountain, the ocean and Camps Bay from the top.
Explore the popular Silvermine nature reserve. Take a snap of the Elephant's Eye Cave and cool off in the reservoir – perfect for a hot summer's day!
Wander along the lush green paths of Newlands Forests while discovering the magical tranquility of this local favourite. There are also designated braai and picnic spots to gather with friends and family underneath the forest trees.
Bakhoven Beach is one of Cape Town's 'best kept secrets' and is nestled between Camps Bay and Llandudno. It consists of a handful of residential homes surrounding the rocky bayside – far from the hustle and bustle of Camps Bay and Clifton. A perfect spot to sit on the rocks, unwind and admire the picturesque mountain views or take a quick dip in the sea.
It's all about the small stuff – these activities are guaranteed to make you have loads of fun! So take your pick, and leave that wallet at home.
Things To Do in Cape Town on a Budget
Tourists are spoiled for choice when it comes to all the luxuries Cape Town has on offer – around every corner there are various tours, gourmet restaurants, trendy shops and alluring markets to enjoy. Who says that you have to spend a fortune in order to have fun?
There are many activities to enjoy in and around Cape Town without having to break the bank:
For only R70 an hour, you can rent a bike from Up Cycles at the Seapoint Promenade. Cycle your way through Cape Town whilst enjoying the salty breeze of the Atlantic ocean right beside you. You will be accompanied by a few dog walkers, joggers and chirpy families enjoying an ice cream along the way. Bikes can be returned at any of the Up Cycles stations.
You got 99 problems, but a chocolate truffle ain't one! Established as the first chocolate cafe in South Africa, Honest Chocolate Cafe, in Wale Street, offers the best chocolate treats accompanied by delicious hot chocolate – for less than R50! Simply sit back, relax and indulge in your sweet-tooth delights.
If you are keen to experience life like a Capetonian, head over to the Blue Peter Hotel in Bloubergstrand. It is a popular beachside restaurant where many locals laze out on the grass. Known for having amazing views of the ocean and Table Mountain – it's a perfect spot to enjoy a cold beer. They also have traditional 'fish and chips' for only R97 – you won't get more Capetonian than this!
Hop on a train to Kalkbay and Metrorail your way around the Cape Peninsula from various station points in Cape Town. Explore the quirky little towns along the way – dotted with colourful beach huts, gypsy shops, vibey restaurants and views of the waves crashing against the rocks. It alludes to a true Mediterranean atmosphere. Train tickets are less than R20.
These are some of the best ways to explore the local gems of the Mother City – el cheapo style!
Adventurous Things To Do in Cape Town
Cape Town is the perfect location to keep the adrenaline junkies on their toes – from exploring the mysterious and unique creatures of the deep blue to jumping out of an airplane.
Take note: the activities below are not for the faint-hearted:
For those with a fascination of the creatures that lurk beneath the salty surface, shark cage diving offers you a chance to get face-to-face with one of the most majestic species, in their natural habitat. Although these tours are exhilarating, the main purpose is to educate people about the truth of this endangered species that humans fear so much, and their surprisingly gentle nature!
If planes aren't your thing, then abseiling might just be! It's one of the best ways to explore one of the Seven Wonders of the World – no long queues or steep walking trials leaving you feeling exhausted at the end of the day. Keen to enjoy the panoramic views from over 1000 metres above sea level? Abseil-lutely!
Who said you can only surf in the ocean? Explore the Atlantis Dunes on your Sandboard – an awesome way to spend a day outside packed with action and epic scenery. No experience required – just go ride out the sandy waves and enjoy the thrill!
An item that features on almost every bucketlist, tandem skydiving offers you the thrilling experience of taking the plunge from a plane. Admire the magnificent views of Cape Town from waaaaay up high. The sky is definitely not your limit!
These activities around Cape Town will surely get your heart pumping and add that extra 'rush of excitement' that will make your travels filled with adventure!
Fun Things To Do In Cape Town For Couples
All you need is love, and Cape Town is the ideal destination for all those lovebirds on holiday. The amazing mountain backdrops, vibrant atmosphere and natural beauty paints the perfect picture for a romantic getaway!
Whether you are on your honeymoon, or simply looking for a way to enjoy the company of your other half, here are some options to consider to spice up your trip.
Saddle up and go for Horseback Riding along the beautiful coast of Noordhoek Long Beach. This is the perfect occasion to explore Cape Town alongside your partner and the vast stretch of blue ocean and white sand. If you are a newbie to horse riding, there are various guided tours to keep you safe on the back of your 4-legged friend!
If you enjoy a perfect sunset, what better way to experience this beautiful moment in time, than with your special someone on a luxurious yacht? There are various sunset Cruises running from the V&A Waterfront.Most tours offer a complimentary glass of sparkling wine as you sail away on the glistening waters and enjoy the unique view of the majestic Table Mountain.
Nothing screams 'date night' louder than curling up together to watch a movie! The Galileo Open Air Cinema gives couples a chance to take movie night to the next level. We're talking: starry skies, comfortable seats,blankets and a wide range of classic movies that are showcased weekly. Bring along your snacks and wine!
Grab your picnic basket and head over to the Kirstenbosch National Botanical Garden. This popular Capetonian landmark is well-known for its unique beauty. It's home to a diverse range of plants and flowers, lush green grass and magnificent backdrops of the eastern foot of Table Mountain. Lie down beside your lover and enjoy the tranquility of the Cape Town gem!
These romantic adventures will spark up your love and keep the flame burning!
Unusual Things To Do in Cape Town
For those who like to take the road less traveled – this one's for you! Although Cape Town is known to be a tourist paradise, there are a variety of secret activities perfect for exploring in the Mother City.
So toss that tourist brochure aside, and get ready to explore Cape Town in the most unique way…
The Company's Garden is a refreshing oasis right in the middle of the city centre. Besides the historical importance, it is home to a few guitar-playing buskers, as well as the famous squirrels. These adorable creatures have acquainted themselves with the passing humans, and will eat out of your hand – literally! Simply buy a bag of local nuts and witness the cuteness!
Woodstock is a quirky suburb just outside the CBD. Once a baysideside area, today it is an industrial hub for creatives and artists. Along with hip restaurants and coffee shops, ts best-known feature is the fascinating street art, which adds another voice to the process of its transformation. There are guided tours allowing visitors to witness some of the most unique graffiti in the world, and the meanings behind them.
If you love history mixed with adventure, the Cape Town tunnel tours will fit your bill just right! This guided tour allows you to explore the network of tunnels underneath the city's surface. Back in 1962, these served as underground canals that supplied fresh water to passing ships and the city gardens. and rivers date back to 1652 when they supplied fresh water to the Company's Garden, as well as to passing ships. Grab your gumboots and torch, and explore the undergrounds of the Mother City!
Above the hustle and bustle of the Cape Town city centre you will find the Bo-Kaap. It is a multicultural neighbourhood filled with narrow cobbled stone streets and colourful houses, making it one of the Mother Cities little treasures. There are a handful of trendy shops, beautiful Mosques and quirky cafes to explore – an area filled with history, heritage and culture.
You only live once – hop over to these unusual spots and get inspired!
Historical Places To Visit in Cape Town
Cape Town is known to have a deep-rooted, somewhat turbulent history. It is a city that hosts a large mix of cultures. It has endured brutal naval wars along the shores, witness the harsh realities of Apartheid and played a huge role in the rise of democracy and freedom in South Africa.
There are various memorials and museums you will want to visit – they truly echo the legacy of the city's past.
Robben Island is the most famous historical landmark and a World Heritage site, situated in Table Bay on the west side of the city. The prison on the island held a few political freedom fighters during Apartheid, including former president Nelson Mandela who served 18 years on its soil. Today it serves as a museum and showcases the harsh conditions the prisoners had to endure in this island prison.
Established in 1948, the Franschhoek Huguenot Memorial is situated in the heart of the beautiful Franschhoek town, only a 40 minute drive from Cape Town. It serves as a memorial that celebrates the French influence of the Huguenots in the late 18th century. Explore this beauty in a tranquil garden setting along with the magic Franschhoek has to offer.
One of Cape Town's most iconic landmarks, the Castle of Good Hope offers visitors a chance to get a glimpse of the early settler's architecture and way of life. Built between 1666 and 1679, it is the oldest remaining building in South Africa. Besides it's history, there are also art and photo exhibitions that take place regularly between it's walls. A must see!
At the foot of Devil's Peak, in the leavy university suburb of Rondebosch, stands Rhodes Memorial. A monument designed by Sir Herbert Baker in 1912 in honour of politician Cecil John Rhodes, former prime minister of the Cape Colony. Today it is a popular spot for photos offering amazing views over the city.
There are few places in the world that offer some the greatest things in life all in one unique and affordable package. With it's breathtaking nature, rich history, thrilling adventure, and dynamic culture – Cape Town simply takes the prize home!
Have a look at our list of amazing specials and packages to explore in and around the Mother City.