Dublin Castle Tour | Options, Tickets & Times 2022
Last updated on April 1, 2023 6:39 am
Add to wishlist
Added to wishlist
Removed from wishlist
0
Add to compare
Ireland's delightful capital, Dublin, is home to wonderful people, tons of entertainment, and fascinating places to see. It's a city rich in antiquity, culture, and traditions. With all that the city has to offer, an open-top bus tour is one of many great ways to explore the city and enjoy the sights.
For any traveler interested in architecture, art, history, academics, or literature, a tour of Dublin Castle is an unmissable experience. It also hosts supplementary art exhibitions, fashion displays, and relics from various Irish historical periods.
It was also used as one of the Irish film locations for the castles in Game of Thrones and attracts many visitors who are fans of the hit show. A Dublin Castle tour is a fantastic opportunity to learn about Irish history and experience life as a royal.
Highlights:
Take a walk through the spectacular Dublin Castle Gardens
Visit the opulent, gold-decorated Throne Room that has hosted many royal ceremonies over the centuries is a must-see
Explore the Record Tower, the oldest remaining structure of the castle that dates back to the thirteenth century
Know before you book:
Not all tours include access to the castle's interior
Expect some crowds, particularly during the popular summer months (June – August)
Certain areas of the castle prohibit photography
Built on a Viking settlement dating back to the thirteenth century, Dublin Castle provides an excellent window into the history of Ireland. Over centuries stretching from Medieval to Georgian times, buildings were added to the castle, offering a glimpse into the past through architecture. Some of the most distinctive parts of the castle include the Chapel Royal, Saint Patrick's Hall, the State Apartments, and the lush Dublin Garden.
This well-preserved medieval structure is also a relic of over seven hundred years of British rule over Ireland. The castle has served many purposes over the centuries, including being used as a prison, military fortress, treasury, court of law, and royal house.
After Ireland gained independence in 1922, the castle was handed back to the new Irish government. Today, it is used for official state functions, such as presidential inaugurations and diplomatic meetings. We've rounded up the best Dublin Castle tours to help you experience all of its history and alluring magic.
Dublin Castle Ticket Prices 2022
Taking a walk in the castle's gardens is free, but if you would like to explore the inside, there are various options available. Ticket prices will differ depending on whether you are after standard, comprehensive or private tour options. Students and seniors can enter at discounted rates.
Self-guided tours of Dublin Castle cost approximately €7(± $8 ) for adults and €3(± $ 4 for children. Basic guided tours start at €10 (± $11 for adults and  €4(±$5) for children.
Compare tour options and prices across the ticket providers below:
Dublin Castle Hours
Dublin Castle is open to visitors throughout the year. It is closed to the public during special occasions, holidays, and political events, so be sure to check the schedule ahead of time.
From Monday to Saturday, the castle is open from 09:45 am to 17:45 pm. Sunday hours are from 12:00pm to 16:45 pm.
Best Time to Visit Dublin Castle
The city of Dublin is a popular and bustling tourist destination year-round. Here are some tips for choosing the perfect time for your visit:
Time of year: April and May are great months for a trip to Dublin Castle, as it is not peak tourist season and the weather starts to warm up.
Time of week: Monday to Thursday is generally regarded as the best days to visit the castle, as weekdays are quieter and there is a smaller chance of special events preventing the tour.
Time of day: It is recommended to start your visit early in the morning to avoid a rush. Make sure you have enough time available in your schedule, as there is a lot to see, learn and explore.
Dublin Castle Tour Options
Various tours in and around Dublin have Dublin Castle on its itinerary as it is such a significant and spectacular structure. There are many tours available that are suited for your individual preference. You can tour privately or with a group, or select a tour option that allows you to see as much of the city as possible.
If you would like to spend a whole day immersing yourself in its history, the castle offers various internal guided tours. You can also stroll around and experience the castle on your own time, and digital guides and information booklets are available for purchase.
Explore some of the best tours that include Dublin Castle below.
Fast-Track Book of Kells Ticket & Dublin Castle Tour

This two-and-a-half-hour tour is perfect for lovers of history and literature. It starts at Trinity College, where you can see the historic eight century Book of Kells, the manuscript of the four gospels by Matthew, Mark, Luke, and John.
The tour also includes exploring the exterior and gardens of Dublin Castle, and information about the beautiful sculptures in the garden. The guide will point out the important structures and hidden gems around the exterior of the castle.
What we liked: Great for a quick overview of Dublin's most significant historic relics.
---
INCLUDES:
Entrance ticket to Trinity College Library
Expert local tour guide
EXCLUDES:
Access to interior of the castle
Food and drink
The tour ends after the journey through the garden, where you can linger and enjoy the spectacular scenery. The lovely Terrace Café on the castle grounds is the perfect place to end off your tour with a pint of Guinness or a cup of locally-brewed coffee.
Check Price & Book
---
Best Of Dublin Historical Walking Tour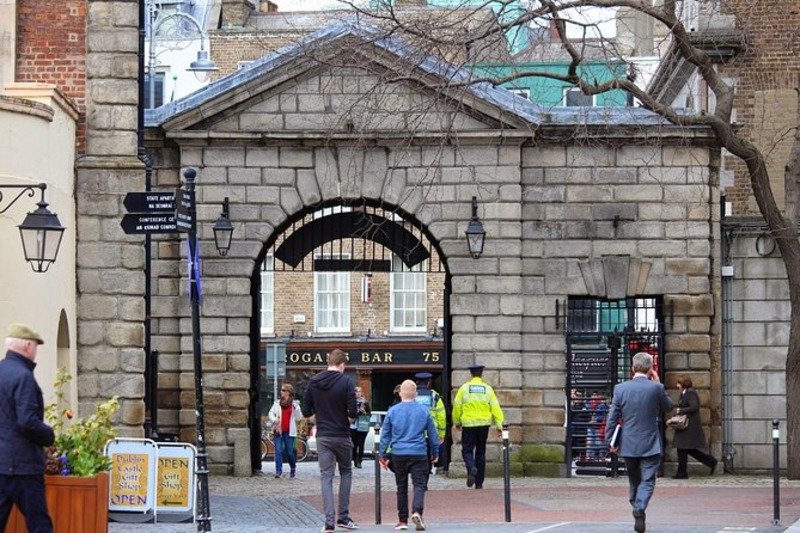 Led by a knowledgeable guide, this tour gives you the opportunity to learn about the city's medieval past as you stroll through the cobblestone alleys.
This two-and-a-half-hour tour is an ideal choice if you want to immerse yourself in the history of the city. Apart from Dublin Castle, it also includes stops at the iconic Trinity College, Saint Patrick's Cathedral, and the Bank of Ireland.
What we liked: Great historic spots on the itinerary, plus some shopping.
---
INCLUDES:
Expert local tour guide
Complimentary map of Dublin
Discounts at selected local restaurants and tourist attractions
EXCLUDES:
No access to the inside of Dublin Castle
Gratuities
Hotel pickup and drop-off
This tour will take you past some fantastic photo spots, and lead you to the lovely Powerscourt Townhouse Centre. After the tour, you can enjoy something to eat and shop for specialized, hand-made souvenirs here.
Check Price & Book
---
Dublin: Go City All-Inclusive Pass with 35+ Attractions

If you prefer to tour and travel independently, the Go City all-inclusive pass is a great option for your visit to Dublin. You can choose the number of days you would like to spend exploring the city, and visit as many attractions as you like.
With entry to over thirty-five attractions and locations, there is sure to be something for everyone to enjoy. The wide variety of attractions includes Dublin Castle, the Guinness Storehouse, the Dublin Zoo, and the Irish Museum of Modern Art, to mention a few. The comprehensive city guide provided will give you all the information you need to plan your perfect Dublin activity itinerary.
What we liked: The Dublin pass allows you to choose which attractions you would like to visit, and allows you to tour independently.
---
INCLUDES:
All-inclusive pass to over 35 locations and attractions
One-day ticket for Dublin hop-on hop-off bus tour
Digital Dublin city guide with attraction and reservation information
EXCLUDES:
Gratuities
Food and drinks
Hotel pickup and drop-off
Discover everything Dublin has to offer at your own pace. The pass works as simple as presenting the QR code on your phone to gain entry to your chosen attractions.
Check Price & Book
---
Dublin: Private City Highlights Tour by Car, Van, or Bus

The Private City Highlights tour allows you to sit back and enjoy a private journey through Dublin's main attractions.
A professional guide will accompany you to Dublin Castle, allowing you to soak up all the history without having to rush. There is also ample time to stroll through the castle gardens. Other stops include Saint Patrick's Cathedral, Trinity College and Liffey Bridge. You can also spend time shopping in the famous O'Connell Street, known for its wide variety of luxury shops.
What we liked: An added benefit of this four-hour exclusive tour is that you do not need to worry about crowds or queues.
---
INCLUDES:
Round-trip transportation in a private vehicle
Private, expert tour guide
Hotel pick-up and drop-off
EXCLUDES:
Gratuities
Food and drinks
Entrance fees
After exploring Dublin Castle, you might want to relax and have a drink and something to eat. A great tip is to end your tour in the vibrant Temple Pub live music district, where there are bars and fine dining experiences for a fun night out on the town.
Check Price & Book
---
Editor Review
Dublin Castle is in the city-center, so there are many attractions and activities within a short distance, including City Hall and Trinity College. The castle is a definite must-see if you want to explore Irish history and immerse yourself in the culture.
PROS
Experience Dublin Castle in all its splendour
Access to special locations
Bypass queues
CONS
Often not enough time to take it all in
Not all areas are wheelchair accessible
Could be canceled on short notice due to political events
Specification:
Dublin Castle Tour | Options, Tickets & Times 2022
| | |
| --- | --- |
| Accessible | Not all tours are wheelchair accessible |
| Meals | Not included |
| Duration | Tours range between two and four hours |
| Inclusions | Most tours include entry fees and tour guides |
| Exclusions | Tours do not include gratuities |
| Pick-up | Some tours do include hotel pick-up |
| Suited for | Most travelers |
21 reviews for
Dublin Castle Tour | Options, Tickets & Times 2022
Dublin Castle Tour | Options, Tickets & Times 2022