All

Favorite

Popular

Most rated

Expired
Many world travelers mention Spain as a gastronomical experience second to none. A Madrid tapas tour is the perfect way to
travel in Spain
while seated in a tapas bar with your guide. You'll experience dishes from many of the country's autonomous regions in one evening. Alongside a love for food is a passion for football. Expect to hear fans occasionally erupting from deeper in the bar. You can fit historical sights, leisure, lunch, and a tapas tour into a 24-hour visit to the capital city of Spain. Consider staying in a minimalist room at
this trendy hote
l to be near the action. We list various options perfect for backpackers looking to join a group or a couple hoping for a more private tour.
More details +
Additional Information
A tapas tour in Madrid involves Spanish snack cuisine and is typically complemented with a drink at the end of the day. Experience one of Europe's most celebrated food cultures as a perfect way to socialize after sightseeing. You'll have a chance to visit more than one bar to experience the cosmopolitan capital alongside your guide. These tours are a great way to find your feet in this energetic city as a solo traveler. Whether you decide to join one of the group tours or book a private guided experience, you will be in good hands. And, If you feel confident, your guide can help you to translate your favorite order.
PROS:
Knowledgeable guides
Some tours include a complimentary drink and tapas
Learn how to order a dish in Spanish
CONS:
Some tapas will be shared between travelers
Some tours are not wheelchair accessible
Tours require a moderate physical fitness level
Welcome to the Colosseum! One of, if not the, most iconic landmarks found anywhere on our planet, and one of the New 7 Wonders of the World. Situated in the center of Rome, tours of the Colosseum are both well suited to your itinerary needs and conveniently located to some of Rome's other attractions! Below we list a variety of different options you can choose from when looking at Colosseum tours and travel guides. From the standard Colosseum guided tour to a tour of the gladiator's dungeons and a nighttime experience, there are options for families, couples and single tourists alike!
More details +
Rome is a city so entrenched in ancient history that you could spend years delving into its crypts and never find all its secrets. The Colosseum is no different, and we believe that these are some of the best tours to best encapsulate this! From its archways to its well-trodden cobbled roads, the Colosseum stands as a testament to man's ingenuity and capabilities. A marvel to behold!
PROS:
See one of the greatest man-made landmarks in the world
Skip the thousands of queuing people
Get an insider's guide into the history of the monument from local professionals
CONS:
Lots of walking
No hotel pickup
No wheelchair accessibility
Known as the Garden of Europe, Keukenhof is an exquisite place to visit, and one of the icons of Holland. There are a number of ways to experience the Keukenhof Tulip Gardens - from skip-the-line tickets with transport to guided tours that will introduce you to all the park's best stops. We list a variety of different options, making it great for solo travellers, romantics and families alike!
More details +
This is a fantastic Dutch experience, and one of the best places to make memories and take great photographs. The distance from Amsterdam, and issues with wheelchair friendliness are downsides.
PROS:
Gorgeous, extensive garden
Free time included
Easy transport
CONS:
Food and drinks aren't included
The open times are a small window
Not fully wheelchair friendly
Experience the incredible diversity of Hong Kong on any of these Hop-on Hop-off bus tour options. Discover the incredible panoramic views of the bright city lights and fast-paced hustle and bustle of the city center, contrasting the peaceful bays and famed peaks. The Hong Kong hop-on-hop-off bus tour has 3 different route options to choose from. Each takes you on a journey of new perspectives of the city. Choose to hop-off at any of the stops along the route. Explore the city sites on your own time with the help of the Hong Kong map that will be provided for your own explorations. Discover Hong Kong at your own pace with either a Classic, Premium or Deluxe ticket. These navigate 3 different routes on the hop-on-hop-off sightseeing bus. Enjoy the choice of audio commentary in 10 different languages along the way.
More details +
The Hong Kong hop-on-hop-off offers an incredible way to see the city with the freedom to move around the landmarks and sites at your own pace. The buses include commentary in different languages, providing information along the way, while you make use of your map of the bus route and Hong Kong map to navigate your way around.
PROS:
Freedom to explore at your own pace
Choice of different routes with different landmarks
Commentary available in 10 different languages
CONS:
May be confusing to navigate
Meals not included
Some landmarks may not be wheelchair accessible
The decadent and historic Palace of Versailles is an incredible place to explore. With a rich history full of intrigue and luxury, and a great many ancient artifacts, the palace is one of the top things to see in Paris. While you can access the palace by paying an entrance fee, a guided tour is well-worthwhile, allowing you to know so much more about everything you see. There are a variety of guided tours available. We list a variety of different options making it great for romantics and families alike.
More details +
The Palace of Versailles is so phenomenally beautiful and extravagant, a trip to Paris is incomplete without a visit here. With such a rich history, we feel a guided tour is well worthwhile!
PROS:
Various options
Include entrance fees
Well organized
CONS:
Meals aren't provided
Not wheelchair accessible
Can be difficult to get there
Bus-tours of Milan are the perfect way to see as much of the city as possible! With these half-day and full-day tours you'll see all the main attractions in a shorter amount of time. Visit the main symbols of Milan in an air-conditioned bus. See Leonardo's famous painting of The Last Supper, the iconic La Scala Opera Theater, the historic Duomo Cathedral, and more! At each bus stop you'll be able to walk around and explore more of these iconic locations on foot. All tours are narrated by a live-guide or an audio-guide. Learn about Milan's famous history while enjoying a panoramic bus tour of the city.
More details +
PROS:
Convenient form of transportation
Well organized transportation
Live guide or audio guide is provided on all tours
CONS:
Select tours are only offered on certain days
Leave behind the bustling city of Athens on a one or two day trip to Delphi! The area is famous for its ancient oracle, which influenced kings and countries and is interlinked with Greek mythology and history. The trip through the Greek countryside is incredibly beautiful, and visiting Delphi feels like stepping back in time to a strange and mystical place. Your tour guide will show you around and tell you its detailed history. You'll also have plenty of time to explore on your own. One of the best Athens day trips, Delphi can be experienced in a few different ways. We've listed the different tours and their pros and cons so that you can find the perfect tour for you and your family!
More details +
For those who love history, culture, and beauty, Delphi is an unmissable stop on your Greek itinerary. Since it's so far from Athens, these tours are the best way to experience it.
PROS:
Beautiful and historical
Different options
All-inclusive options available
CONS:
Difficult to reach
Lunch and drinks excluded unless specified
There may be little time to explore
Get behind-the-scenes access to the ultimate movie magic destination! Combining a movie studio and theme park, Universal Studios is a unique and exciting experience. There are a number of ways to experience it, the best of which is with VIP access and a guided tour. This is just another way to
skip-the-line for Universal Studios
. We compare a variety of Universal Studios VIP tours, so you can find the best price for what you're looking for. The tours include gourmet lunches and skip-the-line access to everything you want to see and do, as well as a backstage tour. All VIP tours are full-day excursions – because who would want to spend anything less than a day at this iconic place?
More details +
Universal Studios Hollywood VIP Tour Review 2020
The Universal Studios VIP Tour is a once-in-a-lifetime experience. It may be slightly pricey, but it is certainly the best way to experience Hollywood. You can book and add your own Universal Orlando VIP experience review.
PROS:
Casual itinerary
Meals included
Many rides and attractions
CONS:
Does not include transportation
Kids under five aren't allowed
The ticket is only valid for the selected day
Explore the famous James Bond Island, where 'The Man with the Golden Gun' was filmed. The island is one of the most beautiful in Thailand, with its iconic limestone formations, crystal waters, and lush, exotic vegetation. There are a variety of tours and ways to see this beautiful place. We detail the best of them, so you can find the right tour for you.
More details +
This is an amazing tour for anyone with a little time to spare in Phuket. A great escape from Thailand's most popular island, there is so much time for both relaxation and adventure activities which has made it one of our favourite Thai trips.
PROS:
All-inclusive
Meals included
Many options
Family-friendly
CONS:
No wheelchair access
Not suitable for pregnant women
With around 3 160 tons of water rushing over them every second, the Niagara Falls are one of Earth's greatest natural spectacles. The raw power and beauty of these three enormous waterfalls have made them arguably the best-known waterfalls in the world, and they are truly a sight to behold.
With these day trip to Niagara Falls from New York tours, all transport from your hotel in New York City to the waterfalls and back is taken care of. You'll be shown around the falls and enjoy the 'Maid of the mist' voyage, or a thrilling 'journey behind the falls'.
More details +
This is a great opportunity to see these famously beautiful falls when staying in New York! It's a long day, but well worth the trip.
PROS:
An easy and time-efficient way to see the incredible Niagara Falls from New York
Get right up close to the waterfalls
The guided tour offers interesting information and stunning vantage points
CONS:
The travel time for the bus option can be a bit long
The traveling can be excessive if you struggle with long journeys
It can be a long day, some people may get tired
Best value
Explore the Vatican Museums and Sistine Chapel without the usual hordes of tourists by booking an
evening tour.
Offered seasonally on Friday nights, this experience is not to be missed! Skip the long lines and discover one of Italy's most famous attractions. Admire the iconic art and architecture inside these two holy attractions including the Gallery of the Tapestries, the Hall of the Maps, the Octagonal Courtyard, and the artwork of Michelangelo. All tours are conducted by a professional tour guide- skilled in art-history. Enjoy the highlights of the Vatican Museums and Sistine Chapel in a private and relaxed group setting.
More details +
This tour is an excellent way to enjoy the Vatican's treasures in a quiet setting.
PROS:
After-hours admission into the Vatican Museum and Sistine Chapel
All tours includes a knowledgeable guide
CONS:
This tour is only offered May through October
This tour only runs on Friday evenings
Best value
Watch the City of Lights come alive with a newfound excitement on a
Paris night tour!
Make your way through the city streets and experience it at a quieter time, when it's free of day-time crowds. Watch as the Eiffel Tower puts on a stunning light show. Take in the sights of the Arc de Triomphe under the cloak of darkness, and explore Champs-Élysées in the moonlight. For a unique look at the
city's key monuments
, explore Paris, France at night!
More details +
Paris at night walking tours are entertaining and educational. There are different tour options to choose from to suit your interests. This is a great way to see a different side of the city.
PROS:
Fun and informative tours
Tours offered in multiple languages
See Paris' through a different perspective
CONS:
In summer, tours will partially take place during sunlight as it does not get dark until much later in the evening
Palawan Island is loved and revered as a tropical paradise by tourists across the globe. Located on the western side of the Philippines, Palawan Province boasts an array of breathtaking beaches, lagoons and islands. These El Nido Tour packages allow you to get your feet wet and discover the beauty of the province!
More details +
This is a brilliant opportunity to explore the area around El Nido, Palawan! You could never find everything on your own, and with these prices you would never need to!
PROS:
Fun and easy
Meals included
Many Options
CONS:
Some protection fees are excluded from the price
Kayaks and gear aren't provided
Not wheelchair friendly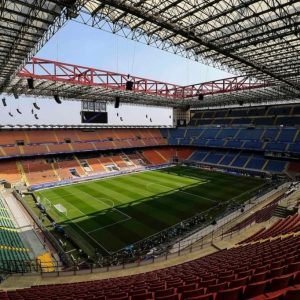 A colossal stadium, and home to two giants of European football, AC Milan and FC Internazionale, the San Siro Stadium is a must see in Milan. Take in the views of the 80,000 seater-stadium, walk on the hallowed turf, and experience the modern home of everything AC Milan at Casa Milan on a San Siro Stadium Tour.
More details +
CONS:
Select tours are only self-guided
Not wheelchair accessible